Montana-based Bomber Products produces high-quality, well-designed products from 6061 aircraft grade aluminum. Products that hold your gear and compliment your off-roading, adventuring, thrill-seeking lifestyle. Products like their Overland Storage System, Shove-Lock, or awning mounts called Awn-Lock or Awn-Lock 2.0. For this review we take a look at their Awn-Lock awning mounts.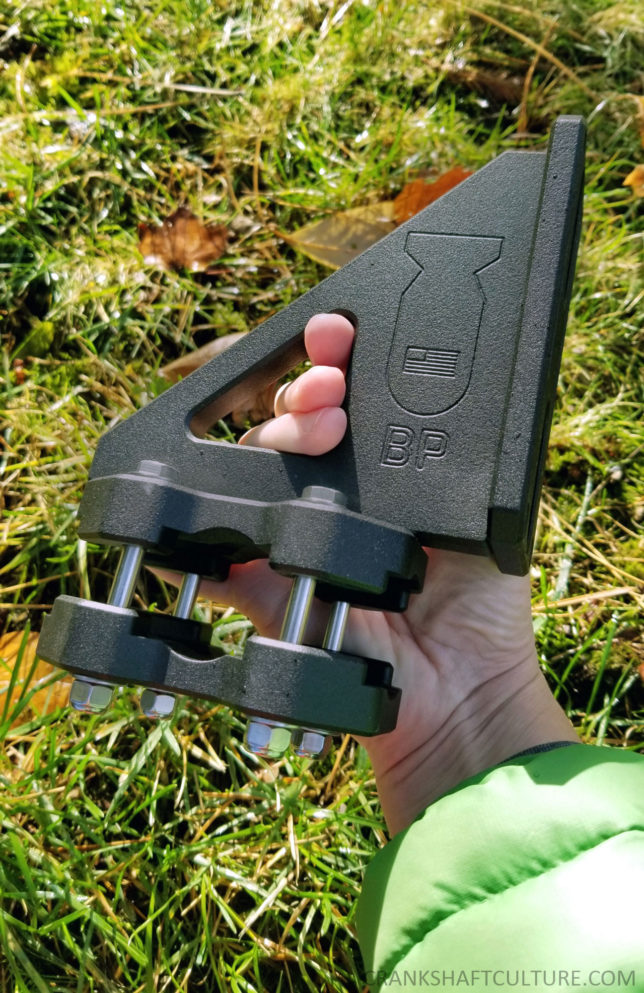 Awn-Lock awning mounts are made in Bozeman, Montana and are compatible with standard Yakima, Thule, and Rhino Rack roof racks (with both round and rectangular crossbars). The pair of black powdercoated mounts are made from the aforementioned aircraft grade aluminum, come with stainless steel hardware and Loctite, and are designed to fit most major awnings on the market (like bat/fox wing style awnings, soft-sided rectangular awnings, or our ARB hard-cased aluminum awning as shown on our Mitsubishi Delica).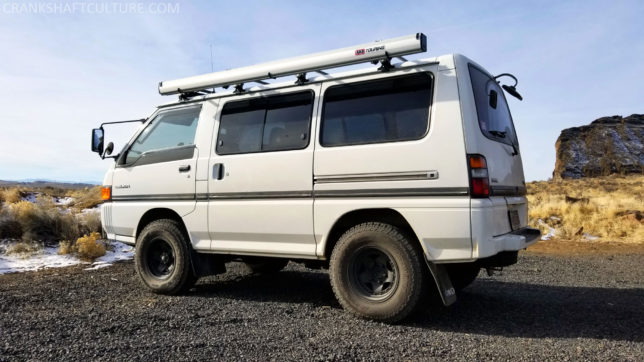 Bomber Products' Awn-Lock mounts arrived in a well-padded box, preventing damage to the product's powdercoating. (A sweet sticker with the company logo was also thrown in, which was immediately stuck on our camp box.) As I inspected the product, I noticed the quality and attention to detail. I'm a stickler for details, and I certainly appreciated the machined BP and company logo. These mounts are built like a heavyweight champions! They are solid and ready for action. Each Awn-Lock mount is a four-piece aluminum set: top bracket, bottom bracket, center section with logo, and awning mounting plate (pre-positioned via allen bolts in the center of the top bracket). Stainless steel bolts, nuts, and washers were already in place, ensuring no parts or pieces were missing.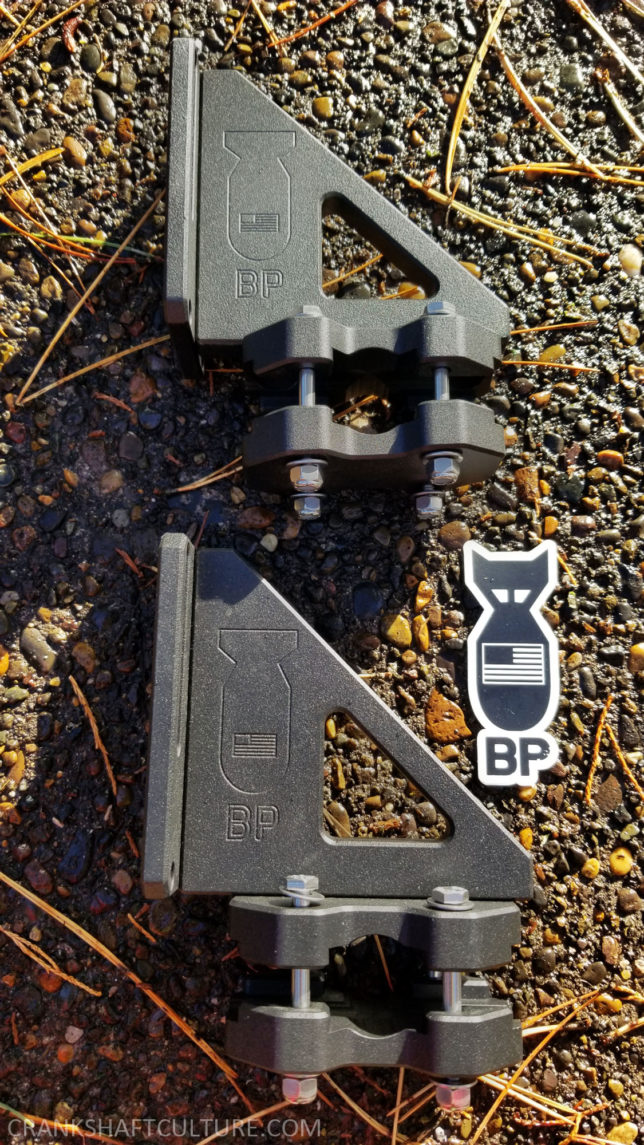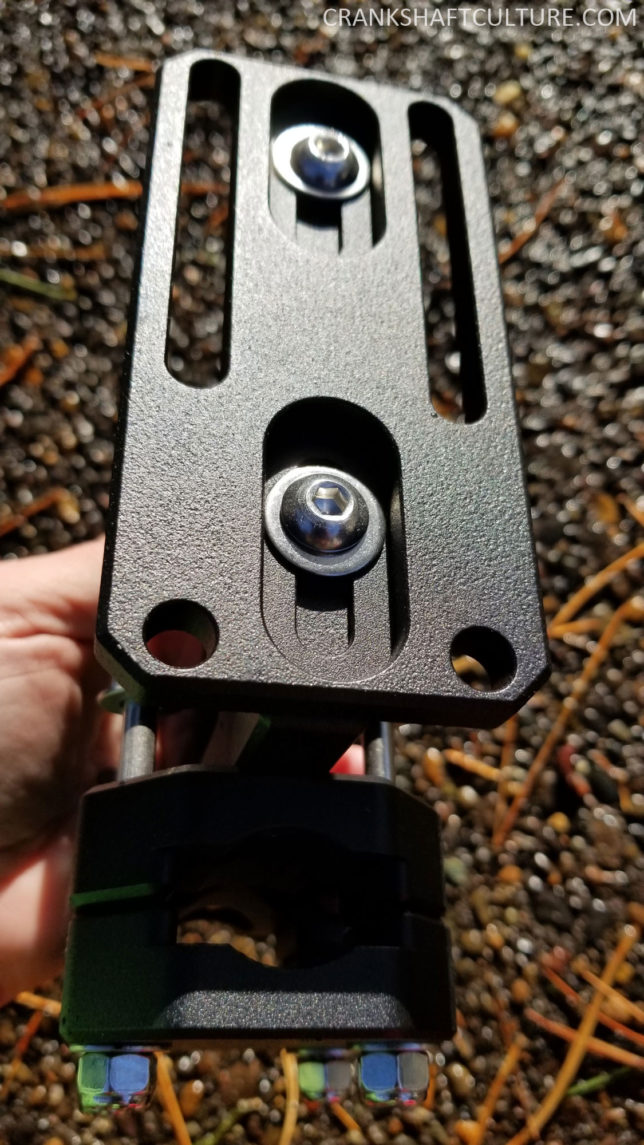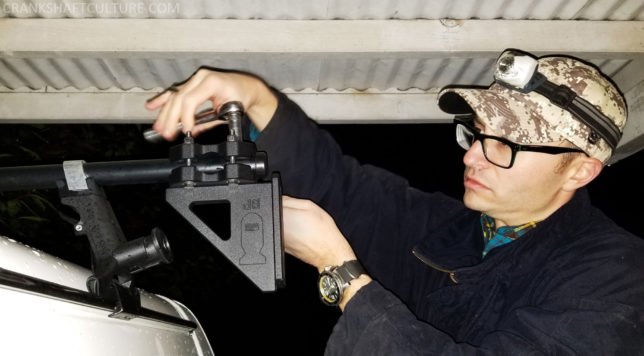 Awn-Lock installation is a snap (even in the pouring rain when we installed ours):
Determine which way you prefer to install your Awn-Locks (Bomber's design allows for right-side-up or upside-down installation). Tip: if you mount them upside-down (like we did), make sure your doors will clear the awning when you open them!
Position Awn-Locks on both cross-bars. You may need to measure their position to ensure they're in the same spot.
Add Loctite and tighten the nyloc nuts.
If needed, loosen awning mounting plates, re-position vertically to suite your awning's final position on the brackets, and re-tighten.
Boom! You're done.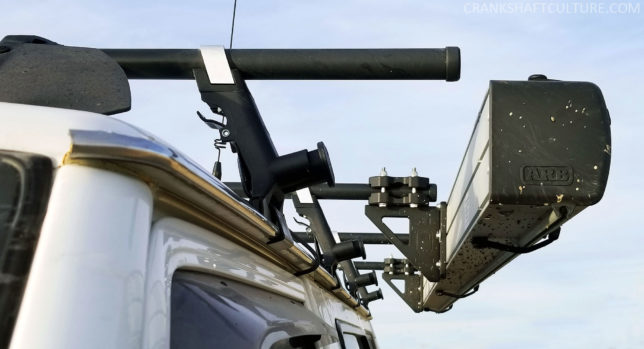 The Bomber Awn-Lock awning mounts are solid as a rock. We put them through their paces on over 200 miles of gravel, dirt, mud, sand, and snowy roads in central Oregon a couple weeks ago. Despite some very washboarded roads and stretches of rough dirt and gravel, the mounts held the awning 100% securely with no movement.
The mounts are $199.95 and boast a lifetime "no questions asked" guarantee. How many times can you say that about cheap Chinese-made products? Made in America from folks who believe that designing and producing quality products is key. It's the key to happy customers, to creating products that scoff at any road or weather condition, and to a successful future for this two-year-old company. We're a believer in Bomber Products, you should too.