Words by Andy Lilienthal. Photos by Andy and Mercedes Lilienthal
Admittedly, when I get the opportunity to get new tires on any of our vehicles, I get excited to see how they'll perform. This holds especially true with tires that I'll take off road because there are so many performance variables. It's not just wet/dry on-road performance. How will they do in gravel, dirt, sand, mud, snow, and rocks? There's only one way to find out.
I've long been a fan of Yokohama tires, and currently have a set of Geolandar mud-terrain tires on our Jeep Cherokee (aka The PDXJ),  a sticky set of S.Drives on our 2007 Toyota Yaris, and we even just bought another set of S.Drives for our 2017 Mitsubishi Mirage. So when it came time to upgrade the rolling stock on our 1989 Mitsubishi Delica Star Wagon (aka the Space Tractor), I knew I'd opt for a set of Yokohamas.
Since the Delica would see a lot of pavement, and probably not a ton of mud, I decided to opt for all-terrain tires versus more aggressive (and usually more noisy) mud-terrain tires. And while Yokohama has long offered its popular Geolandar A/T-S all-terrain, the company recently came out with its all-new Geolandar A/T G015. The G015 has a host of benefits over the A/T-S, including a severe snow service rating, which means these will double as snow tires, perfect for when we take the Space Tractor over the mountains during the winter.
The Delica's factory tire size was 215SR15, which is essentially a 215/80/15 with a diameter of about 28.5 inches. We opted to stuff a set of slightly larger 30×9.50R15 tires on our van, which is the largest size you can throw on a Delica L300 without major rubbing. Full disclosure, ours do just barely rub the front mudflaps at full lock with two people in the rig.
Enough about me, let's talk tires.
Pavement
The first thing I noticed about these tires was how quiet they were. They produced very little road noise. They also felt more planted and confident at higher speeds. Keep in mind that "higher speeds" in a Delica is like 60 mph (100 km/h). A friend asked me if the new tires improved the Delica's handling. While a fair question, nothing can improve a Delica's handling.
Also of note were the tires' rain performance. One of the first times we took the vehicle out on a longer trip, we hit torrential rains on Interstate 5. Not only was I happy I'd recently replaced the wiper blades, I was glad to have these tires—they're great in the water. If you live in a rainy climate like we do, the G015s will not disappoint.
Gravel and Dirt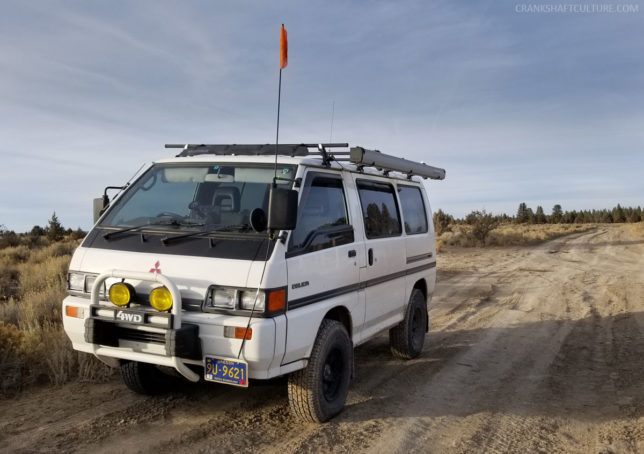 We've put about 200 miles worth of gravel and dirt driving on the G015s, and they've provided plenty of confident traction on both smooth and washboarded gravel roads and various dirt trails. We ran tire pressures from 35 PSI to 15 PSI and the tires provided confident traction in every situation. Yokohama advertises its Enduro compound and EdgeTec grooves for great off-road traction. While it might be marketing-speak, it appears to work.
Most impressive to me was the tires' higher-speed dirt performance. Now again, let's be clear: we weren't exactly running the Baja 1000 in the Space Tractor. But at speeds of 50 to 60 on rural gravel and dirt roads, we never felt things get dicey, twitchy, or spooky. OK, driving 55 mph on a dirt road in something with a center of gravity similar to a phone booth is mildly dicey, but I digress.
Sand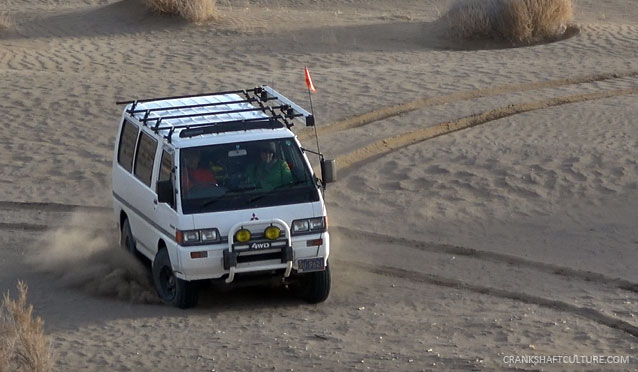 We took the van to the dunes at Christmas Valley, Oregon. We were aired down to about 15 PSI. I have to say this is where I was most impressed. Our van weighs about 4,000 lbs. (1814 kg). The engine makes about 85 hp and 147 lb./ft. of torque. We thought this thing might sink like a brick in the fine sand of Christmas Valley, but we couldn't have been more wrong, as evidenced by this video. This thing was a beast in the sand, albeit a slow lumbering beast. But it never bogged down, never flinched. We climbed dunes we never expected to get up. I think it's fair to say that these tires shine in sand.
Winter Conditions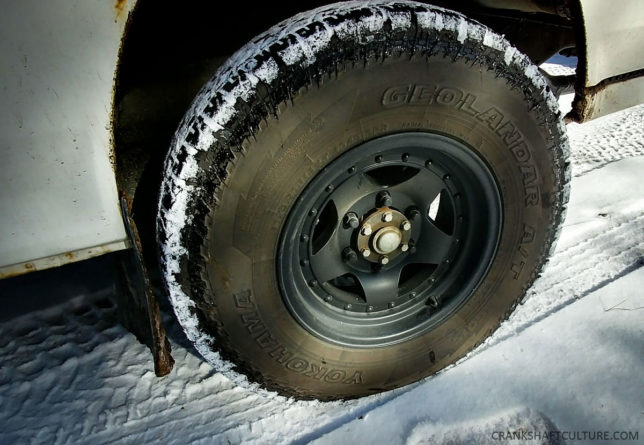 We got to put the G015's severe snow service badge to good use a couple of weeks ago when venturing to a camp trip in central Oregon. We crossed snowy Willamette Pass in the van. Traction became a challenge in two-wheel drive, so we shifted the Space Tractor into four-wheel high. Grip became very good after that. This was our first time driving a forward-control vehicle in slippery conditions, and trust us, it takes some getting used to. Thankfully, the tires did very well in the slush-, ice-, and snow-covered roads of Central Oregon. We ran into both plowed and un-plowed roads, and we drove confidently in both. I'm guessing they'd handle deeper snow very well, too.
Mud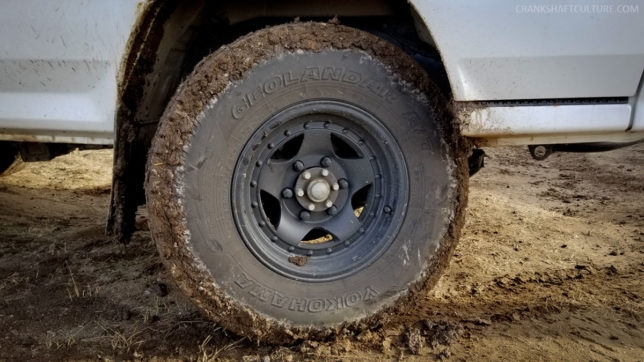 We got the Space Tractor in a bit of mud on two occasions. And like most all-terrain tires, they don't clean out as much as a dedicated mud-terrain tire will. That being said, the tires performed admirably in the goop. Admittedly, we didn't go axle-deep in super-sticky glop. But in the mud we did encounter, the tires provided the traction we needed, and I never felt like I was at risk of getting stuck. I wouldn't mind putting the van into some more mud if I had either a winch on the rig or some good recovery points, neither of which I have at the moment.
A True All-Terrain Tire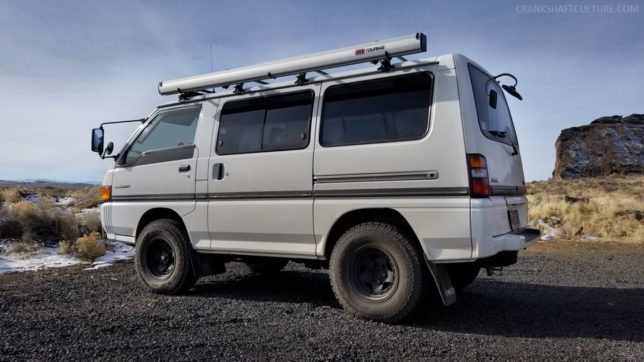 I couldn't be more satisfied with the G015 tires. They have proven to be a versatile choice in most conditions, and quite excellent in rain and sand, plus, they're quiet. They are a perfect choice for our Delica. By the way, Yokohama has up to a 60,000 mile treadwear warranty on these tires, so they should last for quite a while.