Marlon Chopra was living in Portland, Oregon when he learned his sister wanted to get rid of her Tangerine 2014 Subaru XV Crosstrek. He jumped at the chance to buy it from her. One thing: his sister was 3,000 miles away in New Jersey. So he did what any raging gearhead would do: He flew out to Jersey and drove it back to Portland. He convinced a couple of his college buddies to do the drive with him. The whole way to Portland he said, "I would smack the person sitting next to me and exclaim 'Can you believe we are road tripping across the U.S. together? Are you seeing this?'."
Marlon, a school teacher now residing in Minnesota, had been seeing people do crazy things in off-road Subarus for a while. When he got his '14, he started attempting little adventures here and there. "In Portland, I never did anything crazy besides a forest road here and there. When I moved to Salt Lake City in September of 2016, I essentially lost my mind."
GETTING BITTEN BY THE ADVENTURE BUG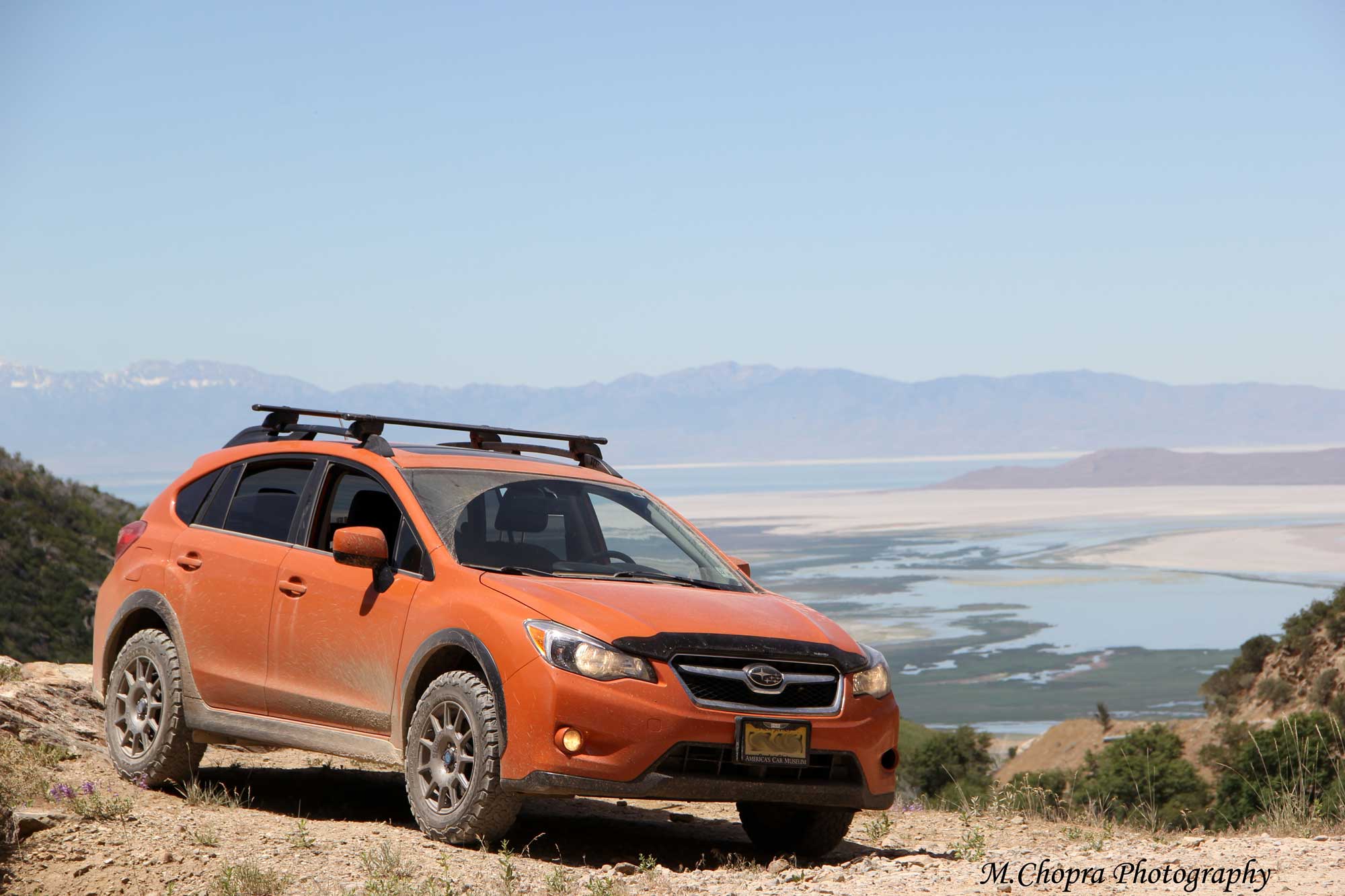 Marlon says when you live in Salt Lake City you are never more than 20 minutes from a crazy cool valley or canyon, and no more than an hour from the summit of a mountain, if you're willing to drive the OHV trails or hike. "Every weekend we were in the mountains somewhere or exploring random valleys and canyons. It was epic all around. This allowed me to convince my girlfriend, Hayley, that we needed a better wheel and tire setup."
Marlon added 16×7 Sparco wheels shod with 215/65/16 BFG KO2s and threw on a front skid plate. As Marlon and Hayley adventured, they found ways to make the XV Crosstrek more capable. However, it wasn't until his first mini trip to Moab that everything went haywire.
"I had one day to explore Moab so I went to the Sand Flats Recreation Area based on the suggestion by Mercedes and Andy from Crankshaft Culture," he said. "I wasn't able to do much but it really started me down a dark path!" And by "dark path," he means he'd been bitten by the off-road adventure bug.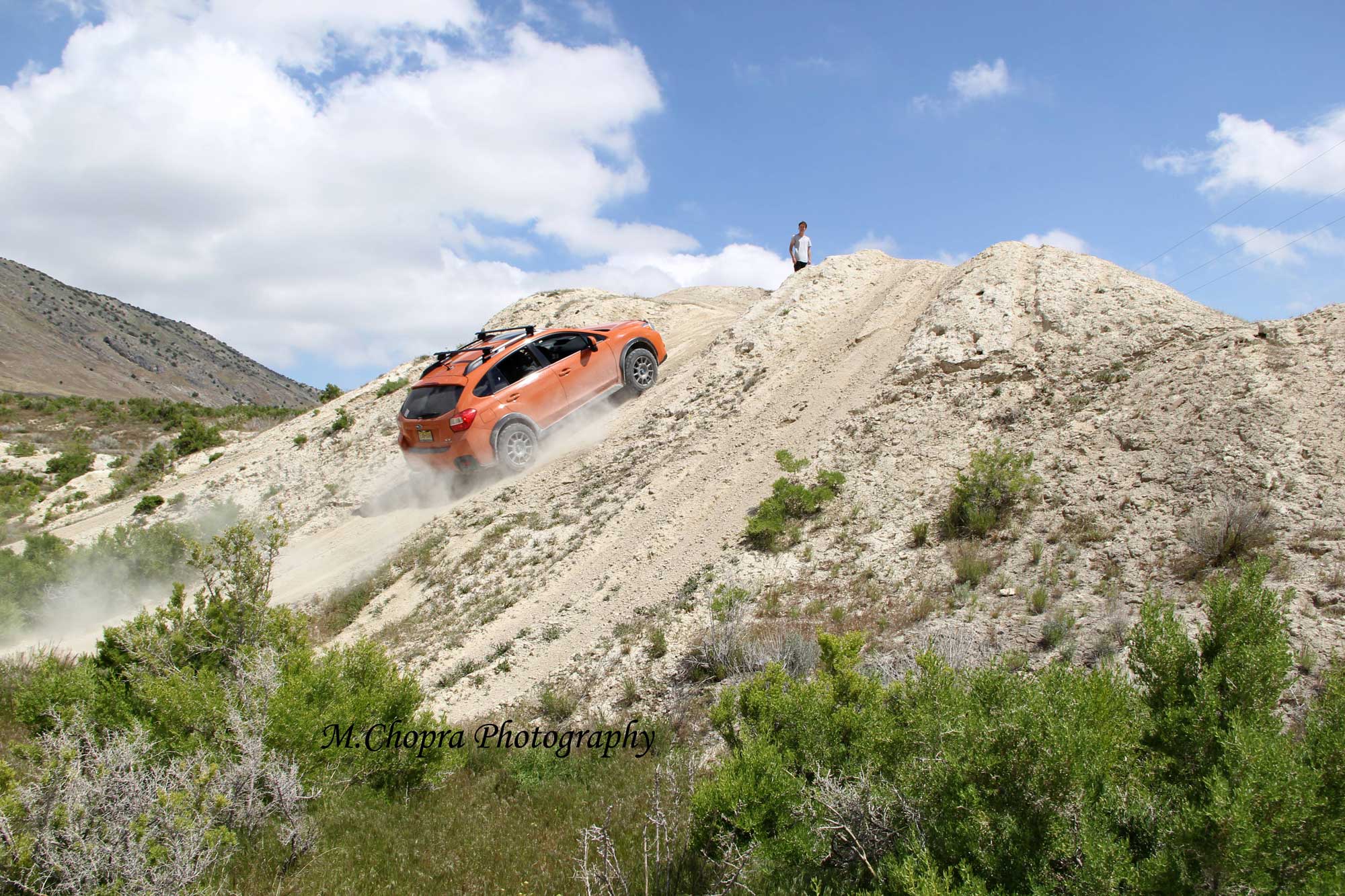 That summer, Marlon's XV Crosstrek went everywhere. They hooked up with the Mtnroo Utah family—a group for adventuring in Subarus—and did trips all over Utah.
In July 2017, they traded the Tangerine XV Crosstrek for the 2016 Pure Red Crosstrek with low miles—1 of 1,500 produced. "I swapped over everything, except the brakes, and was back in the mountains that weekend! I continued to thrash for the rest of the summer until we had to unexpectedly move to Minnesota for family," Marlon said. "Before we left, we did a huge two week trip all over Southern Utah. SLC to Moab, Arizona, and Colorado while hitting Arches, Zion, Canyonlands, Dead Horse Point, Bryce Canyon, and the Grand Canyon with our elevation topping out around 12,000 ft. above sea level."
Once settling in Minnesota, he hooked up with the off-road Subaru community there and has been having a fantastic time.
MODIFICATIONS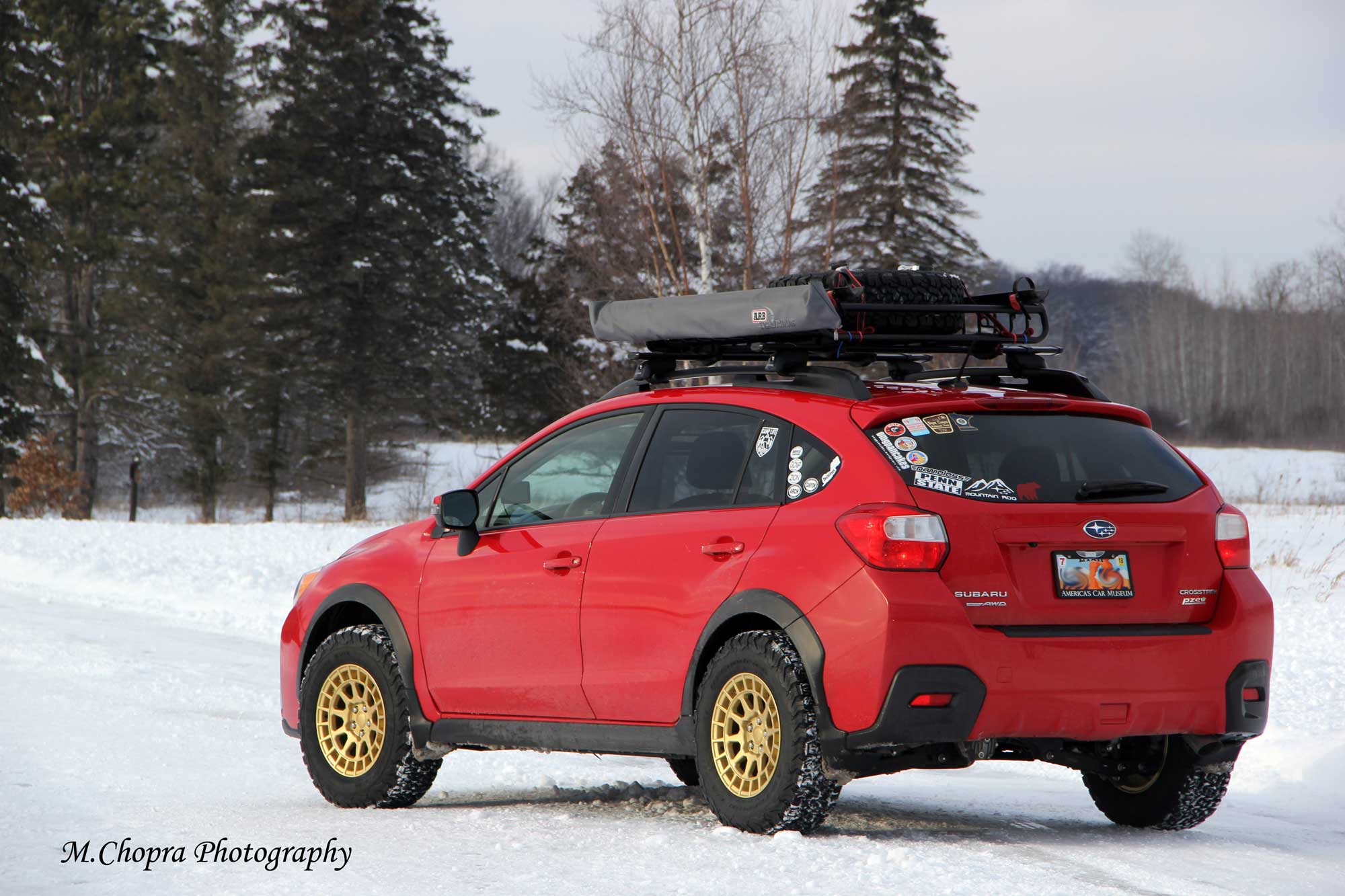 Marlon says all the modifications are purpose-based first and form second. "I need the Crosstrek to work for me and then look pretty. Except for the exhaust, that was purely for those Subie brumbles." To source said brumbles, he turned to his buddy, Andrew, at Nameless Performance. "I used to have the Borla axleback and while that sounded great, the Nameless delete unleashes all the little brumbles that the FB2.0 engine has to offer."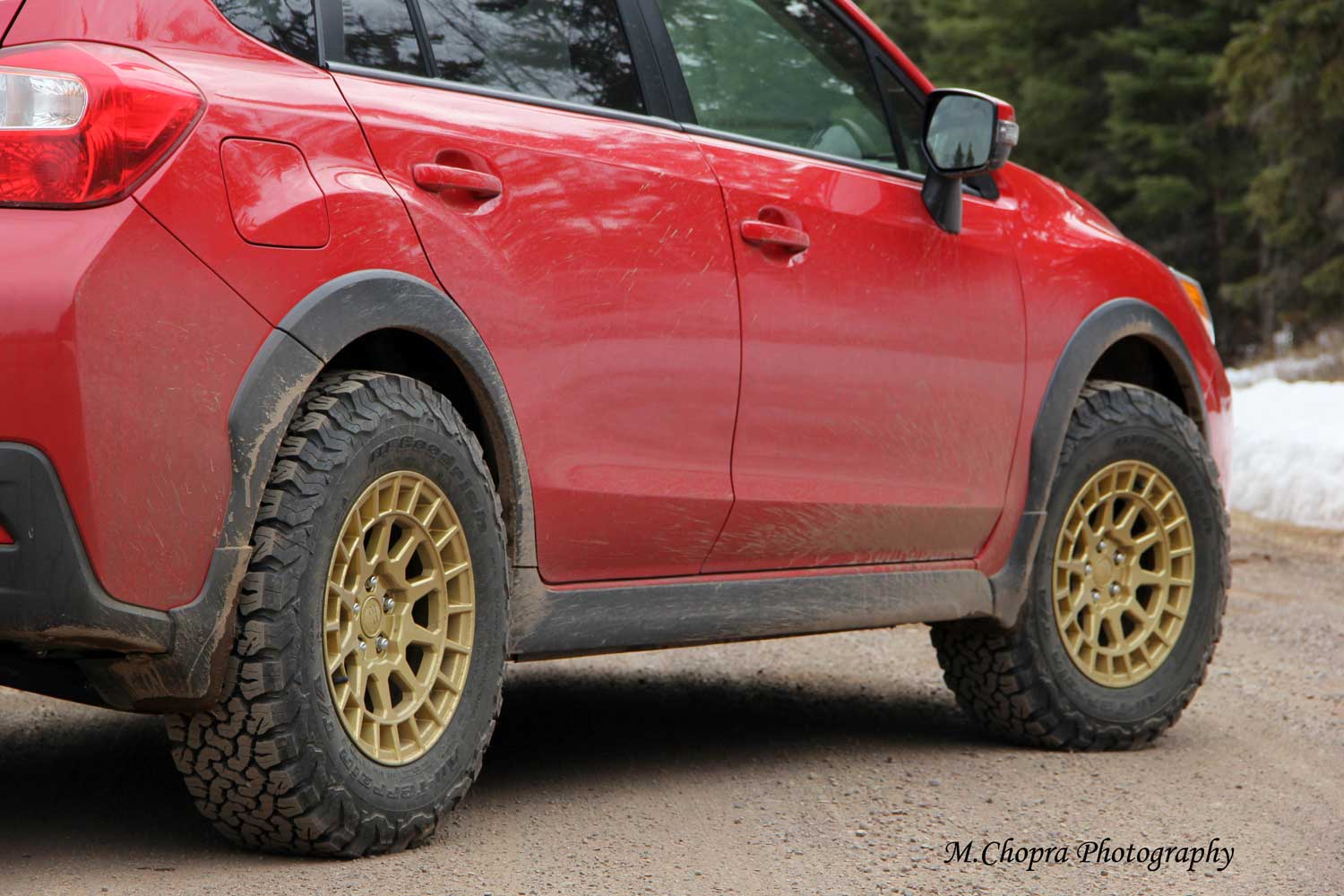 Marlon's Crosstrek rolls on gold 15×7 Black Rhino Boxer Wheels (+15 offset) shod with 215/75/15 BFGoodrich KO2 tires. He remarks the wheels have been incredibly solid and are soaking up the off-road abuse he puts them through.
Speaking of abuse, when you take your rig off the pavement, it's a great idea to add some extra underbody armor, especially when you don't have miles of ground clearance like a Subaru. Marlon's ride features Primitive Racing skid plates all around. This includes the front, transmission, and rear differential plates. He says they've saved his butt a few times.
On the topic of clearance, "When I switched from my 215/65/16 to 215/75/15 BFG KO2s, I started rubbing quite a bit. Plus, when I'm on the trail for a couple weeks at a time, the Crosstrek is quite loaded down." After a ton of research he added a set of King Standard Springs. They provide roughly an inch of lift all around but, more importantly, the springs stiffen up the ride and rebound better than stock.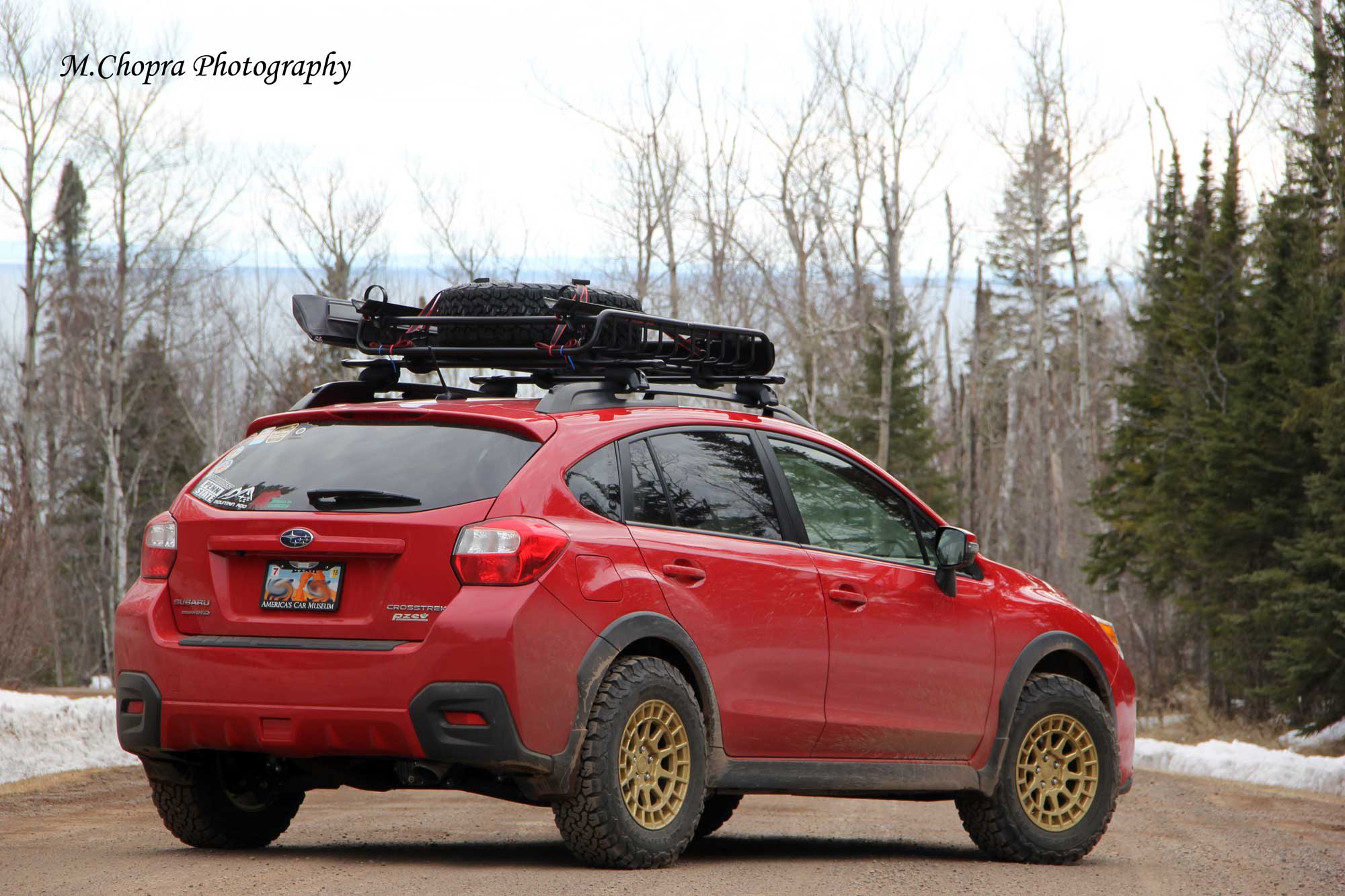 Flexy master cylinders are a common issue with Subarus, and Marlon says the Crosstrek is no exception. To remedy this, he installed a Cusco master cylinder brace in to shore up the flex. Another brake upgrade are a set of EBC Ultimax slotted rotors and Greenstuff pads. Gone are the squishy brakes, plus it keeps the brakes cooler on longer off-road descents.
One of the challenges to longer off-road travel excursions—especially in a compact vehicle—is gear storage. To help with this, Marlon's Crosstrek wears a set of Yakima Aero bars and a Loadwarrier roof basket. "I specifically went with the Yakima Loadwarrier basket because it fits the Crosstrek's dimensions really well, is super strong, and I can put fork-mount bike trays on it and still use the basket for other things," he said.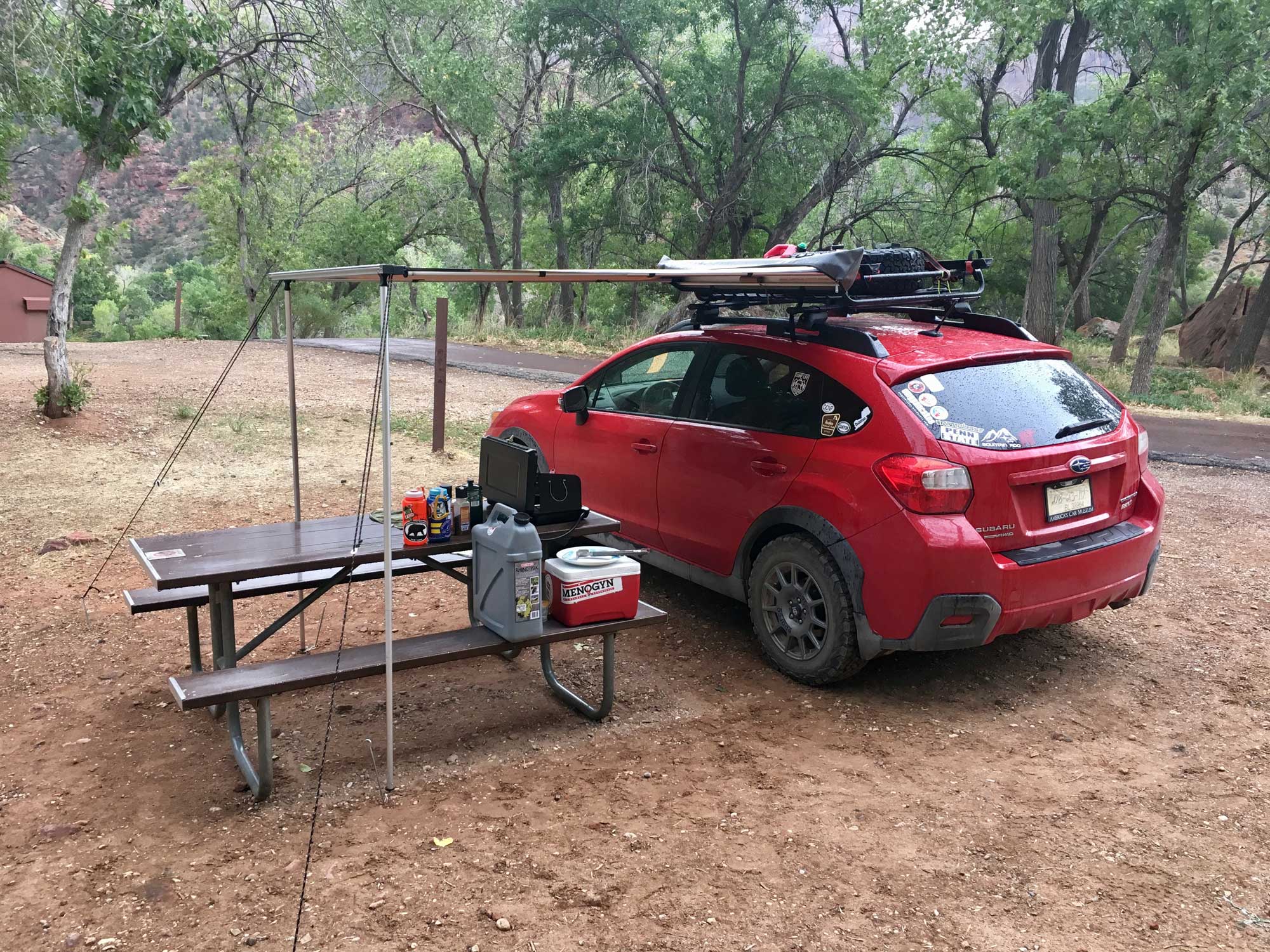 Marlon ditched the donut spare and, smartly, threw a full-size wheel and tire up on the roof. Additionally, Marlon rocks an ARB 1500 awning, which attaches with Fourtrek round bar mounts. "We have used the awning countless times just to keep the sun off us in the middle of nowhere and to allow us to cook when it's pouring outside."
Future modifications to Marlon's Crosstrek include building a rear tire carrier to get the spare off the roof, a transmission cooler, a couple of external LED light pods, and a solar shower.
CROSSTREKS AND CAPABILITY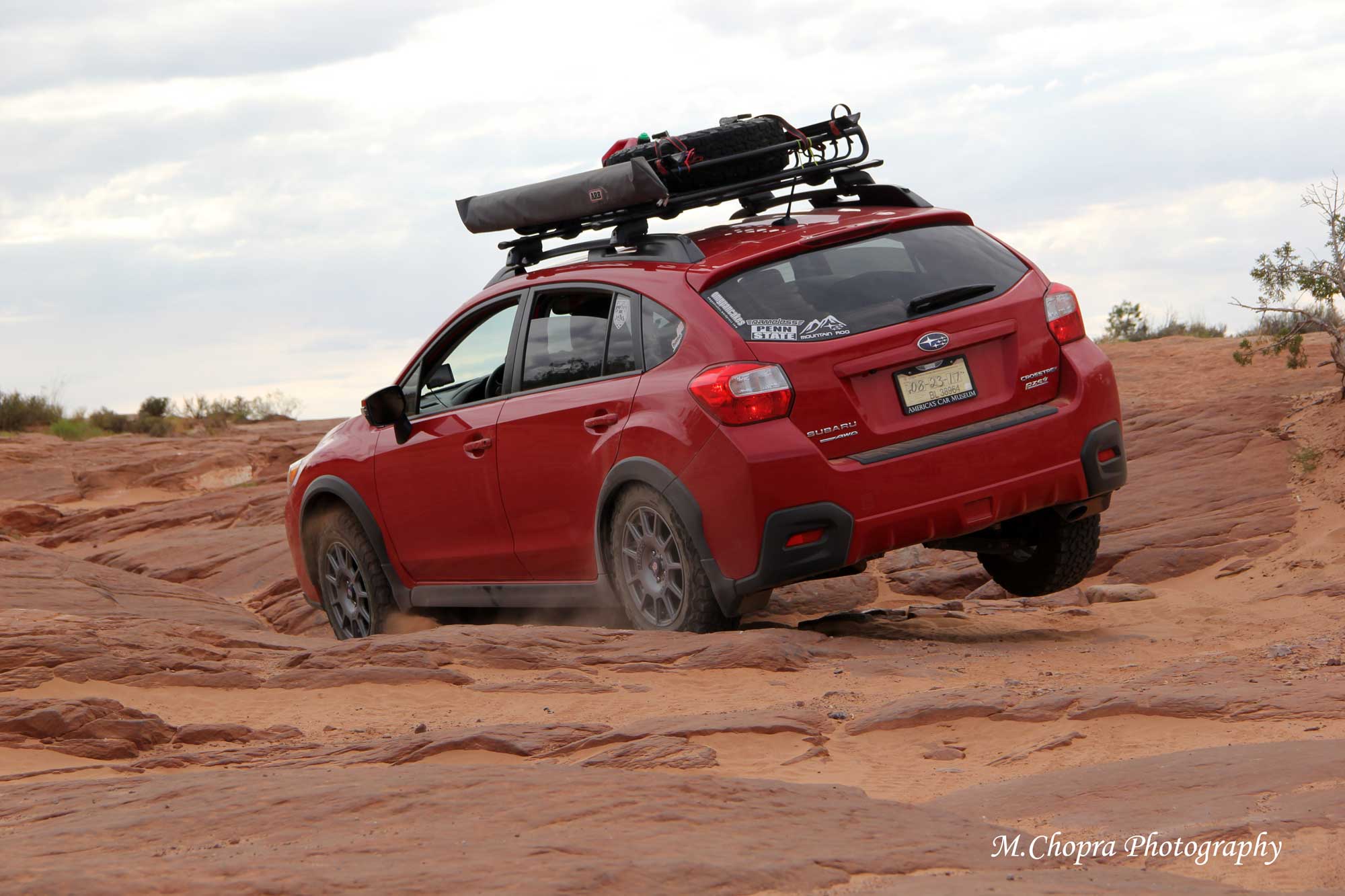 While Marlon knows his Crosstrek isn't a built rock crawler, he says his wagon has come through every time and has been impressive with its off-pavement ability.
"People should know the capability of these things," Marlon said, noting any vehicle is only as good as its tires and driver. "My Crosstreks have been all over the U.S. but most notably Oregon, Washington, Utah, Colorado, and Arizona. Clearance issues and closed gates are the only things that have made me turn back. Anything I have thrown at this little car, it has soaked up and asked for more." From mild water crossings to crazy-high elevations where he had trouble breathing, his Crosstreks have been awesome adventuremobiles.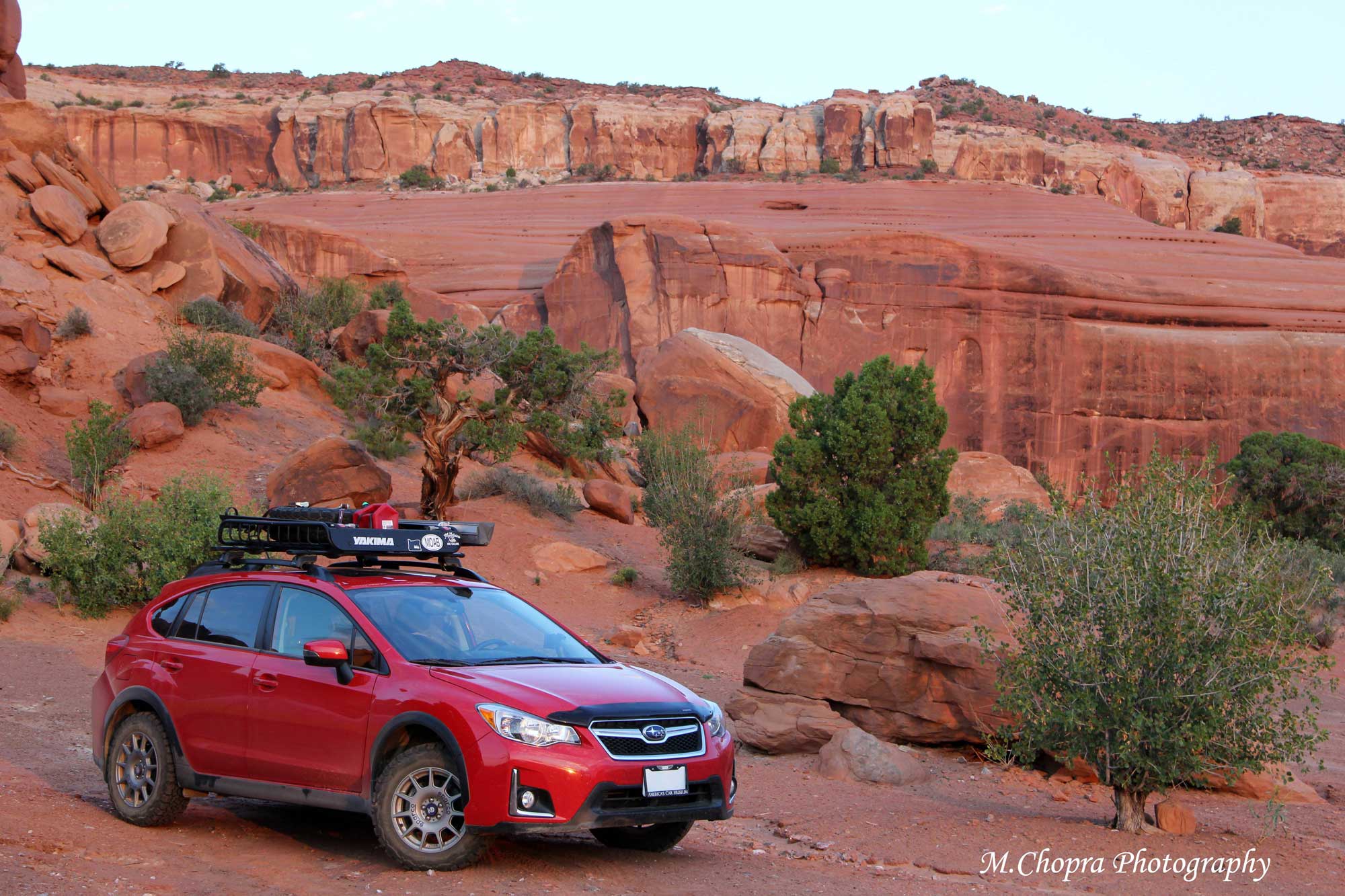 "In Moab we were doing green and blue trails, and at the start of some, I would get people in their bigger rigs tell me I'd never make it or I was silly for even attempting any of these trails. I always enjoyed seeing them at the end of the trail with quizzical looks on their faces, followed quickly by the inevitable slew of questions," he said.
His personal favorite was a trail in Moab where he pulled to the side to let a built up FJ Cruiser pass. "He stopped at my window and exclaimed, 'How did you get here?! Did you just take the trail from this direction?! The same way I just came?! WHAT?! HOW?!' Then he and I proceeded to chat for a while about the Crosstrek."
Another time in Moab, they were doing some random side trail. "We had already come down the trail and were in the process of making our way back up. At the top of the largest obstacle was a side by side with two gentlemen in it. They got out to watch me hit the obstacle. I built the revs and walked the Crosstrek up and over the rock. At the top they approached me and one of them shouted, 'I cannot believe you just did that in that?!' We got to talking for a while and it was pretty cool."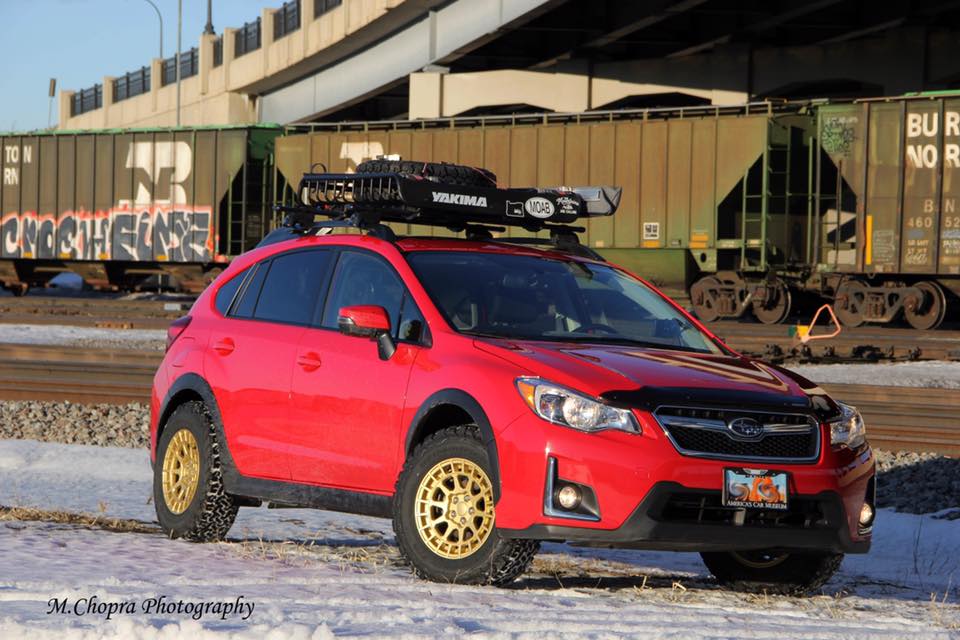 Marlon is still making upgrades to the Subaru to make it his own ultimate little adventure machine. He says it won't be any sort of super-built crazy trail rig, but he hopes it will be a small adventure machine that takes him and Hayley everywhere his ground clearance allows.
You can follow Marlon's adventures on Instagram at @iarebrownbear. And remember, we be believe that every vehicle is an adventure. Got an adventure vehicle? Tag us on Instagram at @crankshaftculture or use the hashtag #crankshaftculture or #everyvehicleisanadventure.