I pull into the parking lot of my local hardware store driving the new 2023 Nissan Z. As I shut the car off, a man in a white Volvo 850 wagon drives in front of the svelte sports coupe. As I'm turning the car off and gathering my phone, I can see him still looking at the car. He pulls into the spot next to mine and starts to get out. He's either going to randomly assault me or simply drool all over the Z. I get out of the car and he says, "Oh man, Nissan really got this one right!"
Thankfully, just a superfan.
But this was the case everywhere we took Nissan's latest iteration of the iconic Z car. I'd be driving down the highway, and see a Subaru BRZ weaving through traffic. They'd pull up next to me just to give me the thumbs up, and speed off. I had a tuned VW GTI pull up next to me on a surface street and give me the thumbs up through the sunroof.
Neighbors would come by and take pics, stop at the end of the driveway and converse, and conversations were struck up all because of this coupe.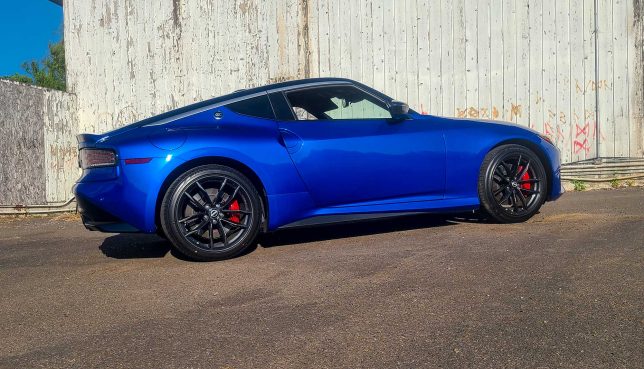 The Nissan Z heritage needs little explanation. They've always been front-engine, rear-wheel-drive sports coupes. They have a global fanbase and have been involved in nearly every form of motorsports there is. These cars are living legends. 
When you have a car that has such importance for your brand, you also need to make sure you get it right when you bring out the next model. It's clear Nissan did its homework before launching it's latest Z. The Japanese automaker has created a perfect automotive amalgam of new and retro styling mixed with lots of power and admirable refinement. The guy at the hardware store was correct: Nissan got this one right.
EXTERIOR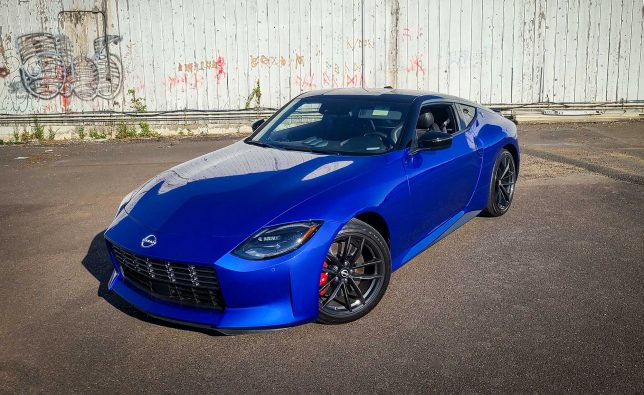 From the first glance, the Z is sexy. The longer I looked at it, the better I liked it. There are retro cues in the taillights (300ZX), some original Z car styling on the long hood, and the round Z badge on the C pillar. But the headlamps are certainly modern. The 19-inch forged Rays wheels look great, and allow for plenty of brake caliper viewing. Retro bits can be hard to pull off without looking kitschy, but Nissan integrated some old-school style into the Z gracefully.
The last Z car I drove (and wrote about) was a 2020 370Z Nismo. It had big rear hips, a shark-like nose, and boy-racer styling. Comparatively, the '23 Z (and yes, it's just called Z) looks more refined and classy. Frankly, that Seiran Blue is stunning and offers miles of depth, complementing the car's graceful lines. 
INTERIOR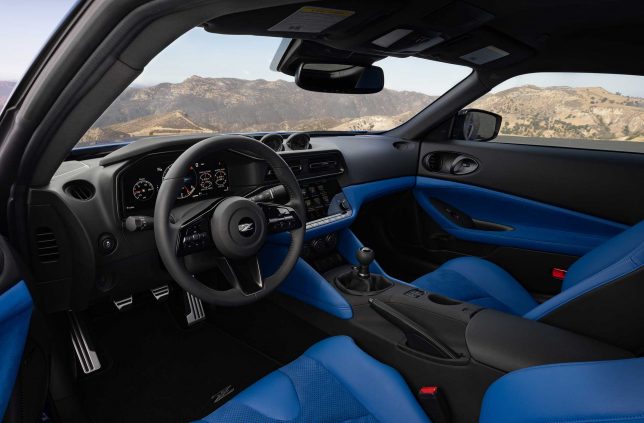 When I had the '20 370Z Nismo, I could never find that Goldilocks driving position. The steering wheel was always either too low or too high. The visibility was bad. The seat just never found that sweet spot. Plus, the interior was in need of a refresh and some bits felt plasticy. Thankfully, the '23 Z has addressed nearly all of these issues for me. I do, however, wish it had a height-adjustable driver's seat. My wife couldn't even see over the wheel and she's 5′-4″ tall.
---
CRANKSHAFT CULTURE CHECKLIST
Off-Road Ability (1-5): -27
On-Road Ability (1-5): 4.4
Can You Easily Lift or Lower It: Lift? Just stop it … Lower? Yes.
Would We Drive Cross Country: Yes.
Would You Drive it to Alaska: Probably.
Aftermarket Support (1-5): Will likely be a 5
Spirit Animal: Blue Marlin — Quick, agile, powerful, and sleek. Long nose.
---
Our tester was a pre-production prototype, but fit and finish felt good, and there was plenty of soft-touch stuff throughout. Unlike the 370Z, I was easily able to find a just-right driving position. Visibility was better than the last Z too (thankfully), but it's still a sports car. Don't expect this to have the same visibility as a boxy SUV.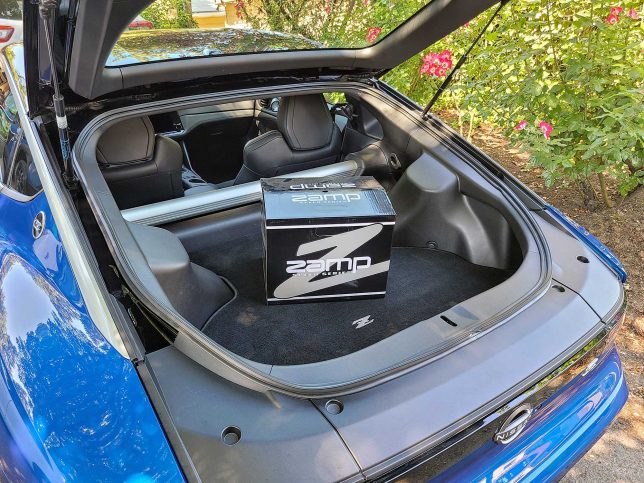 This is a two-seater—no room for the kiddos, the doggos, or much of anything else. I'm sure you could throw in a set of golf clubs or a wee bit of luggage, but again, this isn't a crossover.
Nissan also kept a good mix of touch-screen and tactile knobs/buttons. The stereo and HVAC didn't require watching seven YouTube videos before being able to turn on the air conditioning.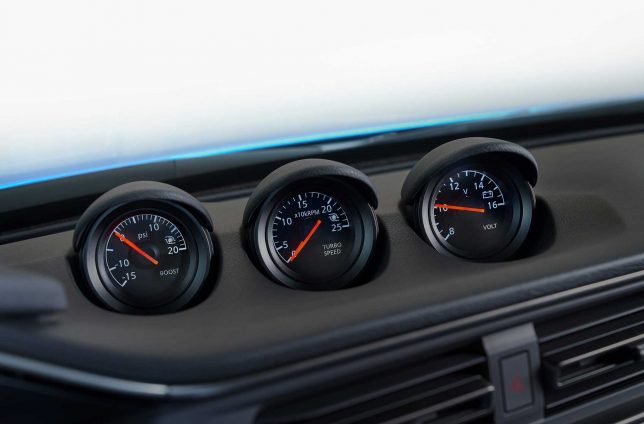 Another nice retro touch? The three gauges mounted on the dash. These included the turbos' PSI, speed, and battery voltage. I've never needed nor cared about how fast my turbo(s) were spinning, but Nissan will let you know whether you want to or not.
ENGINE/DRIVETRAIN/DRIVING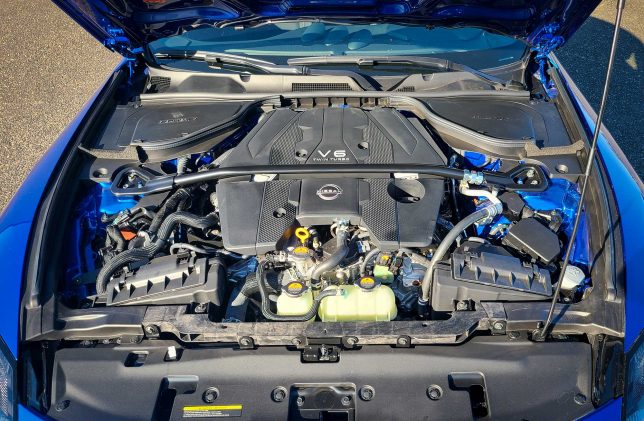 The new Z is the first not to carry the engine's liter size in its moniker. This is just the Z. Perhaps part of that is the fact this car has a 3.0-liter engine, and they didn't want to use "300" again. Regardless, this car's direct-injected mill (the VR30DDTT) is equipped with two spooly bois—yes twin turbos—and the engine makes a healthy 400 hp and 350 lbs./ft. of torque. Thankfully our tester put its power to the rear wheels via the smooth-shifting six-speed manual transmission. Although apparently an automatic is available for people who need that sort of thing in their lives. 
Push the ignition button and the six-banger comes to life, almost sounding more like a small V-8 out of the dual tailpipes. It's not overtly loud, but that tone is certainly on the sporting side. An on-ramp blast showcased plenty of thrust with the traction control doing its thing to keep the rear end planted. A quick shift into second also showcased the ability to break traction if so desired. Those forged Rays wheels are shod with Bridgestone Potenza 255/40R19 rubber up front and 275/35R19 out back. I've read other reviews that state the Potenza S007B perhaps aren't the best for class-leading traction. I didn't have any track time with the car, so I can't talk of that, only that the back-end could be broken loose fairly easily.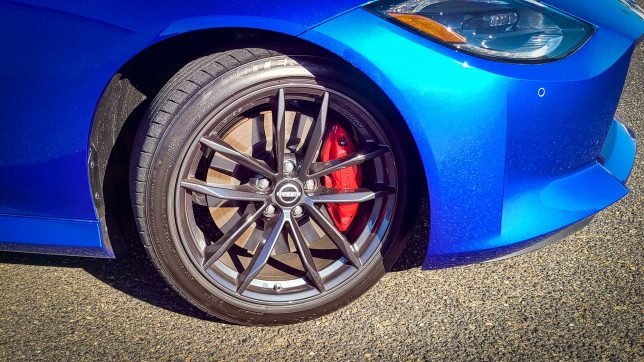 And while I had no track time with the car, around town, I found it offered plenty of grip, whether on the occasional cloverleaf or twisty backroad. Compared to that '20 370Z Nismo, it felt softer and more refined. Perhaps a new Z Nismo will be developed to up the overall performance. But for me, I found this car to be a sports car you could live with without punishment. Your fillings won't drop out. Your kidneys will remain functional. The car has a great mash-up of performance and comfort.
Oh, and it scoots. Car and Driver tested the Z with a 0-60 run of 4.5 seconds, and a ¼-mile time of 13.0 at 111 mph. Top speed is 155 apparently. If you're curious, the fuel economy is EPA rated at 18 city, 20 combined, and 24 highway on premium dino juice. Listen, I know gas prices are high, but if you're really worried about a sports car's fuel economy, your looking at the wrong cars.
All stats aside, on the fun factor, this thing is a 10. I looked for errands to run. I'd take the back way home. I'd find the longest way to places just so I could enjoy this car more. Frankly, I'm smitten with the new Z and would spend my hard-earned money on it. Not to gush, but I kinda love it. 
PRICE/COMPETITORS
Our black-roofed two-tone tester had a price of $49,900 with the Performance package. It also featured illuminated kick plates ($500), that two-tone paint ($1,295), and floor mats ($400). With the $1,025 worth of destination and handling, our Z came in at $53,210 USD. This is right in the same league as some of the faster American V-8-powered coupes such as the Chevrolet Camaro, Dodge Charger, and Ford Mustang. However, they've got totally different vibes. It's also in the neighborhood of the Toyota Supra, which could be the Z's arch nemesis. The Supra with the 3.0-liter engine offers more thrust than the Z (and yes, you can get it with a manual transmission now). Of course, beauty is subjective, but I feel the Z looks better than the Supra, which has lots of BMW blood if that is a plus or minus for you.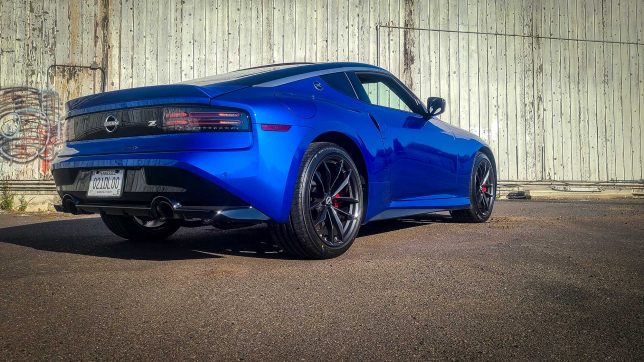 If you've been in "Camp Z" for eons, this will continue to please. Always liked the Z styling? You'll likely continue to enjoy this. If you're looking for the fastest two-door Japanese sports car on the market, this isn't necessarily it. However, if you're looking for a mix of sleek styling, comfort, and admirable performance, the Z is definitely worth checking out. It's certainly at the top of my sports car list.