As you may have heard, the new Ford Maverick compact pickup debuted today. It's a compact unibody FWD or AWD pickup truck. It comes as a crew-cab only, seats five, gets up to 40 MPG, and isn't intended to be a Super Duty. Sure the Honda Ridgeline has been out for a long time and Hyundai is coming out with its Santa Cruz pickup, but will Ford be the one that really brings back the compact segment?
How Big Is It?
Let's talk about the New Ford Maverick exterior size. (I'm not inserting a "size matters" joke. Er … damn it.) It has a 121.1″ wheelbase, a 199.7″ overall length, is 72.4″ wide, and 68.7″ tall. That's not exactly easy to visualize, so let's compare that to a 1993 Mazda B2200—an '80s/'90s minitruck icon. It had a 117.5″ wheel base, a 198.8″ overall length, was 65.7″ wide, and was 61.1″ tall. It makes a bit more sense looking at it in chart format.
| | | |
| --- | --- | --- |
| | 2022 New Ford Maverick (All) | 1993 Mazda B2200 (ext. cab, 2WD) |
| Wheelbase | 121.1″ | 117.5″ |
| Overall Length | 199.7″ | 198.8″ |
| Overall Width | 72.4″ | 65.7″ |
| Overall Height | 68.7″ | 61.1″ |
The overall length is very similar, however, the other dimensions are bigger. However, they're not grossly bigger. This was the first question I had when I saw a photo of the trucklet. The new Ford Maverick will be on a carlike unibody construction, and not a body-on-frame configuration like the B2200 (or any old minitruck). But again, this isn't a full-size truck so why bother?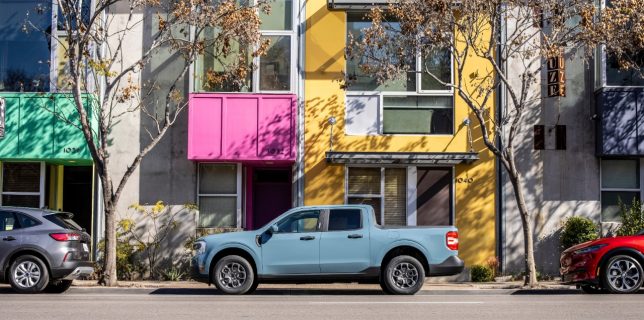 The New Ford Maverick is the tweener of the latest unibody trucks. It's smaller than the Honda Ridgeline, but bigger than the Hyundai Santa Cruz. It will seat five people.
This compact pickup will have an equally compact 4.5′ bed. Lower the tailgate and that extends to a less-compact 6.0′ bed. In the new Ford Maverick's bed are two 12-volt power outlets, optional110-volt and 400-watt outlets, four tie-down points, four D-rings, and threaded holes in the side of the bed. This creates the FLEXBED! While it may sound like a modern-day Craftmatic Adjustable Bed (look it up if you're too young to remember), it isn't.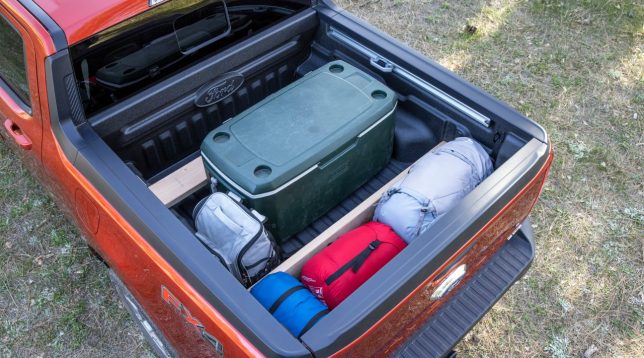 According to Ford, people can create segmented storage, elevated floors, bike and kayak racks, and more by sliding 2x4s or 2x6s into slots stamped into the side of the bed. There are two tie-downs, four D-rings and built-in threaded holes in the sides to bolt in new creations.
"The whole bed is a DIY fan's paradise," said Keith Daugherty, an engineering specialist who helped develop the truck box for Maverick. "You can buy the bolt-in Ford cargo management system and we're happy to sell it to you, but if you're a bit more creative, you can also just go to the hardware store and get some C-channel and bolt it to the bed to make your own solutions."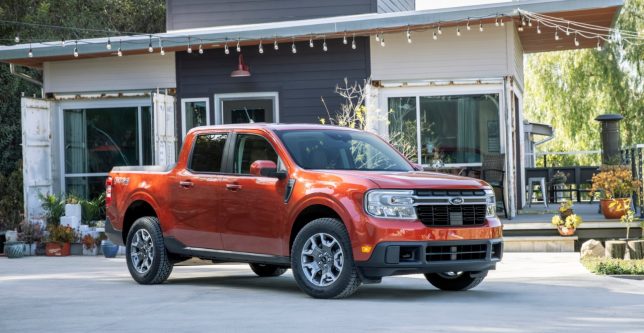 Powertrain Options
So what's under the hood? Will it be 2WD? 4WD? AWD? Will it have a four-cylinder? Here are the answers:
Base models will be FWD and come with a 2.5-liter hybrid four-cylinder mated to a CVT. It will make 191 total horsepower and 155 lb/ft of torque. Hybrid models will have a 2,000 lb. towing capacity. They're saying up to 40 mpg with the 2.5-liter hybrid models. (And you wonder why people don't buy small cars for fuel economy anymore!)
For more grunt, the new Ford Maverick can be equipped with a 2.0-liter EcoBoost engine making a healthy 250 hp and 277 lb/ft of torque. This setup will be mated to an eight-speed automatic transmission. This combo, available in FWD or AWD. The FWD models get a torsion beam rear suspension; AWD gets a multilink rear. No matter the engine, the trucks have a 1,500 lb. payload. Towing capacity goes up to 4,000 lbs. with the 2.0-liter vs. 2,000 lbs. with the hybrid.
I'm already picturing these trucks slammed to the ground in 2WD models with '80s-style paint-splash graphics, or hopping up and down on 100-spoke Dayton wheels and hydraulics like the lowrider days of yore. Hmm … SEMA build anyone?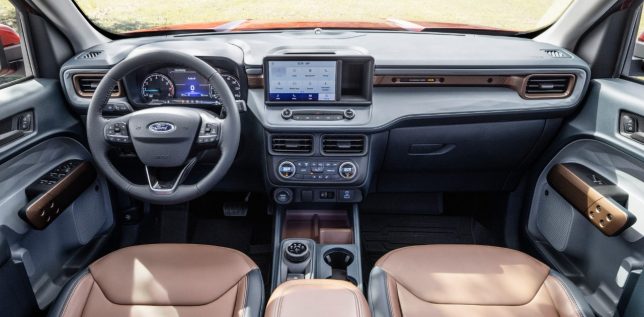 Trim Level Types
Let's cut to the chase: This rig will start off at $21,490 for the base model. That's an aggressively low price, assuming Ford actually makes any at this cost. We know how manufacturers love to tout a super-low base price, but the base models have few takers and can be hard to actually find.
Ford will offer a base XL, XLT, and Lariat trim levels. There will be an FX4 off-road package available, too. Available for the first model year only is the Maverick First Edition package. It is built off the Lariat trim level and includes unique graphics on the hood and lower doors, a high-gloss black-painted roof, soft tonneau cover, body-color door handles, high-gloss black skull caps, and gloss black-painted and machined 18-inch wheels for hybrid or unique 17-inch aluminum wheels for the gas model. It comes in Carbonized Gray, Area 51 and Rapid Red, unique to First Edition.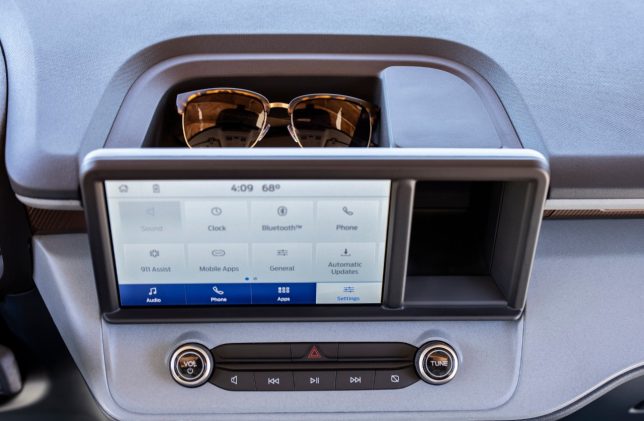 Interior Amenities
Inside the New Ford Maverick, is a standard 8-inch center touch screen features Apple CarPlay and Android Auto compatibility so customers can have the experience they're used to with their phones. Maverick has standard FordPass™ Connect with embedded modem and Wi-Fi for up to 10 devices, while standard FordPass makes it easy to find the truck, check fuel level, lock and unlock the doors, and start or turn off the vehicle—all from your phone.
Ford says the interior design is stylish and spacious, with thoughtful features and the versatility for city driving or escaping the urban life. Surprisingly roomy, there's excellent leg and headroom, shoulder and hip width, and a comfortable seating position for both rows.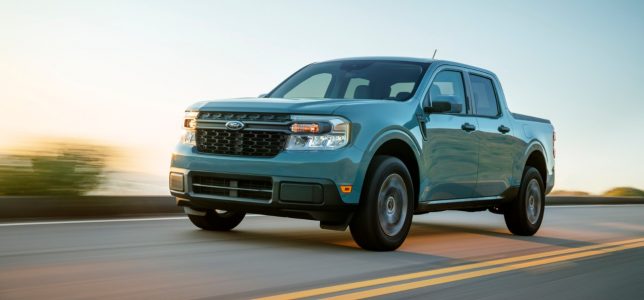 Is This A Return To Compact Trucks?
So here's the deal: I doubt we'll see compact trucks or mini trucks like we did in the 1970s, 1980s, and 1990s. For many reasons, I don't think we'll see small trucks with body-on-frame construction, robust 4WD systems, and optional V6 engines. That being said, if the new Ford Maverick is successful (as well as the upcoming Hyundai Santa Cruz), we could see more of these unibody haulers. The Maverick is trying to look like a truck. The Hyundai Santa Cruz is not trying as hard for this rugged look; it appears more like a hatchback with a bed. Although Americans love their pickup trucks, tacking on a bed to a vehicle doesn't grantee success. Case in point, the not-so-successful Subaru Baja.
In my opinion, not everyone needs a body-on-frame pickup to drive around. Not everyone needs hulking power, four-wheel drive with low-range, or the huge sizes offered by even the smallest of full-size rigs. (This could be the Subcompact Culture side of me talking). I've long argued that the Honda Ridgeline is as much truck as many truck owners really need. However, Ridgeline was an island of a segment—it had zero competition. But that's all going to change. Ford could have a game-changer with the new Maverick. Add to it Hyundai's Santa Cruz and we might just be gearing up for a compact pickup showdown and a return to mini trucks.