We're coffee geeks. We love good coffee. We're willing to skimp on some things, but not when it comes to our java. That includes when we're on the go or while camping. And the first step to good coffee is good beans. The second step is grinding them. There are a variety of portable coffee grinders out there, but when our friends at VSSL came out with the VSSL Java, we needed to know more.
Photos by Mercedes Lilienthal
We're no strangers to making coffee while traveling. We've done it for years and years. Whether it's a weekend outing, weeks in a campervan in New Zealand, or while circumnavigating Iceland, we like our coffee hot, fresh, and we prefer to grind our own whole-bean coffee. One of our favorite things to do is buy locally roasted whole-bean coffee from the places we're at, grind it, and have it to start our morning. However, that means finding a way to grind it on the go.
We have a portable grinder. To be honest, we've never totally loved it. It's rather bulky and takes a good bit of time (and exercise) to get the results we want. It's also a bit big, slightly cumbersome, and not-so-sturdy. Let's put it this way: you'll get your cardio in before you get your morning cup of joe.
We're no strangers to the VSSL line of products; we have a few of their compact, cylindrical gear kits. But VSSL recently came out with one of their most appealing items to date: a compact coffee grinder. The company sent us a unit to test out so we gave it the Crankshaft Culture Gear Garage shakedown. We even put it up against our existing manual grinder to see how it stacks up.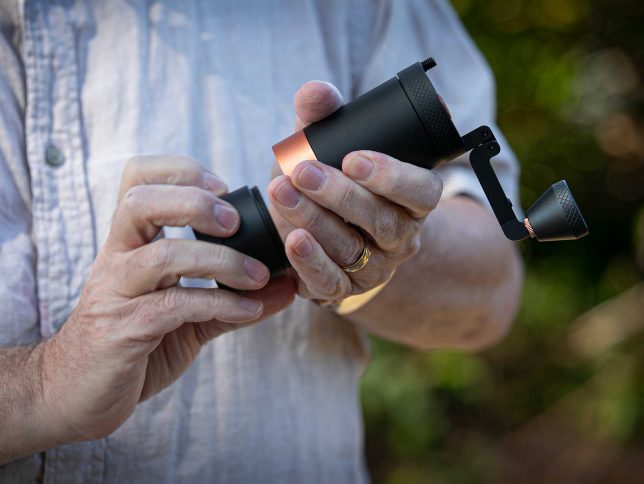 COMPACT SIZE, SUBSTANTIAL FEEL
The black-and-copper VSSL Java looks great. But we don't buy coffee grinders for their sleek designs. The first thing we noticed wasn't its compact 6" x 2" x 2″ design, but its solid feel and substantial weight, which comes in at 0.875 lbs. (397g) according to our digital kitchen scale. It feels solid and easy to hold onto.
This coffee contraption is composed of a few parts. This includes the top with a center button to remove it from the base and clip and flip carabiner-style handle; bearing-equipped lower grinder section with 50-position adjustable grind setting; and hopper capable of holding 20g of ground coffee. Also included are a small brush to get all the grinds out, a larger magnetic knob for the handle, and a canvas carry pouch.
The unit is constructed from aircraft-grade aluminum and it feels very sturdy. It also feels precision-made. From the threads that attach the hopper to the grinder, to the substantial notches on the grinder dial, this thing feels like it was laser-carved from a piece of steel. The powder-coated and brass finishes also felt very high quality. Did I mention it feels substantial? You could also use this as a close-range weapon in a bear attack. Just sayin' …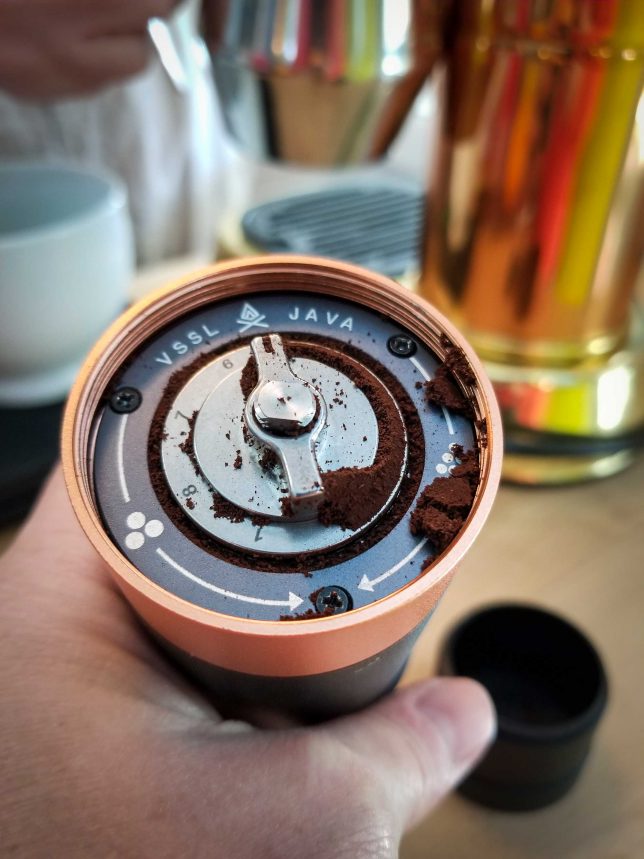 GRIND IT 'TILL YOU FIND IT
All these things are niceties. What really matters to us is performance. With 50 different settings, the VSSL Java allows you to custom grind coffee for everything from fine Turkish grinds to coarse grinds for French Presses. With this many settings, you can truly dial in your favorite. Just remember to count exactly where you are with those settings. The dial at the bottom is easy to adjust, but there's quite a bit of turning to get to the setting of your choice.
Inside the VSSL Java is a stainless-steel burr grinder. The burr grinder is the key to optimal, uniformly shaped grinds. This uniform shape allows precise grinds for that just-right cup of coffee, no matter the brewing method. There are two ball bearings in the unit allowing for for smooth turns of the handle. VSSL points out this also helps eliminate wobble that can happen with many portable grinders.
Some time ago we bought a portable grinder from German brand, GEFU. Specifically, their Lorenzo Coffee Grinder with 11 different grind settings. It's been all over the U.S. and Canada with us. It works well enough but does take some serious stamina to get the grinding process done. It's also not the smoothest or most portable. However, it's what we knew. So how does the VSSL Java stack up?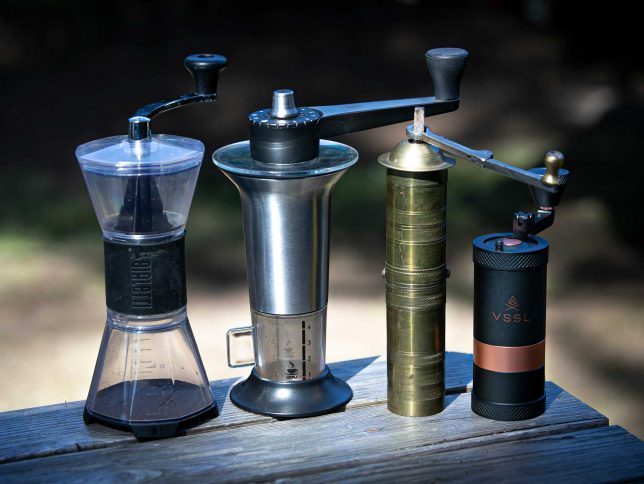 VSSL JAVA VS. OUR OTHER MANUAL GRINDER
We lined up three of our manual grinders along with a friends Bialetti Manual Burr Grinder (at the far left). You can clearly see the different shapes and sizes. The old Turkish coffee grinder is an item passed down within the family and doesn't really get used. However, we do use the GEFU Lorenzo, pictured second from the left. Because we're familiar with it, we put the VSSL Java head to head against the GEFU Lorenzo.
The first thing we noticed was that the VSSL Java definitely has the advantage in terms of ease of grinding. There is a lot less effort that went into turning the handle with the beans in it. It also feels better in the hand while grinding than our trusty GEFU Lorenzo. We often used a countertop or, if we're out camping, a picnic table as a base to grind when we use the GEFU grinder. The VSSL Java was easy to use without a base.
Of note, the GEFU grinder does grind slightly more coffee than the VSSL Java. It will grind "up to 4 cups" of filter coffee or French press according to the company. Further research shows that means about 40g. The VSSL Java will do 20g. I timed a complete grind with both the GEFU Lorenzo and the VSSL Java. The GEFU Lorenzo took me 1 minute, 28 seconds to grind through the hopper on a medium-fine grind. The VSSL Java took me 51 seconds to grind the contents of hits hopper on a similar setting. Remember, the GEFU has twice the capacity. But, if you do the math, in theory, to grind 40 grams, it would take you 1 minute and 2 seconds with the VSSL. Granted, you'd have to empty it, and refill the hopper. But the VSSL bests the GEFU in ease of grinding.
From a size perspective, the GEFU Grinder isn't nearly as compact. When in the stowed configuration, the Lorenzo is 9.2″ x 6.06″ x 4.25″. In comparison, the Java is 6" x 2" x 2″. The VSSL Java can have all of its components inside itself and stows in a compact, tidy fashion and has an included canvas storage bag. The GEFU Lorenzo stows its large removable arm on the grinder's side, but the wide plastic top remains intact. It also does not include a carry bag. Add to it the larger Lorenzo is also 2 oz heavier, and the VSSL Java is a more travel-friendly unit. Plus it's far more durable than the GEFU. One advantage the GEFU Lorenzo has is price. It's about $50—roughly 1/3 the price of the VSSL product.
EXPERT THOUGHTS
The more we used the VSSL Java, the more we liked it. We made several cups of coffee with it over a weekend on the Oregon coast with friends. There we used a vintage La Pavoni espresso maker belonging to our good friend Scott Fisher who runs Bella Culinary Adventures. Scott knows his way around a good cup of coffee and has been writing about the beverage for some time. We put the VSSL Java in his hands for his opinion.
"The feel of the action when you're grinding is smooth—it's a quality piece. The push-button release for filling it is easy to work, and the magnetic catch on the grinding knob feels precise and positive. Just don't let it fall if you're out on the trail," he said.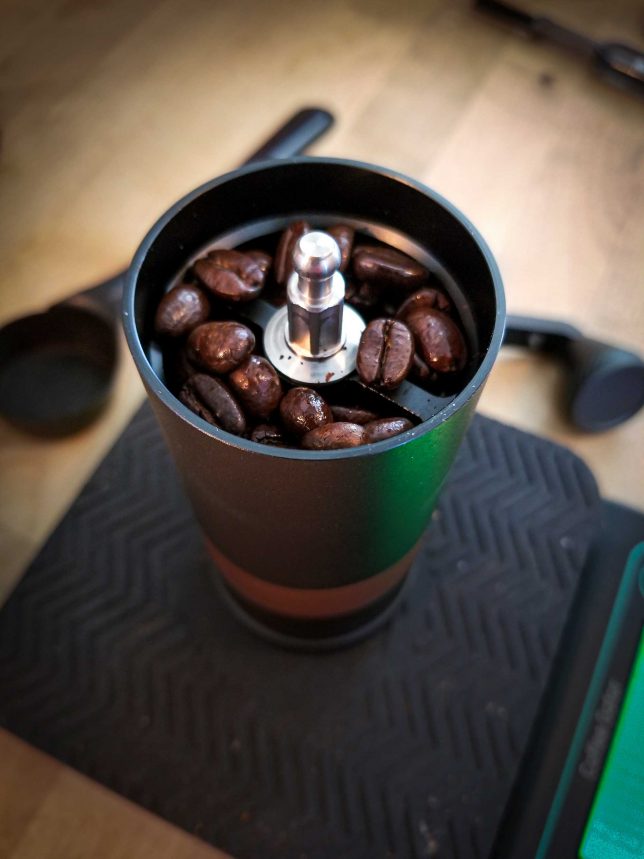 "For our test shots, we weighed out 15 grams of a dark-roast coffee and made a couple of shots of espresso," explained Scott. "We could have squeezed in another 5 grams or so of beans into the VSSL Java if we needed a larger dose, but the La Pavoni pre-millenium we were using maxes out around 13g in the double basket. This was more than adequate for that.
"We also noticed that the grinds container, which unscrews from the bottom of the VSSL Java, was just about the ideal size for tamping the pre-mill Pavoni: about 49mm. That's one less piece of kit you need to pack," he said.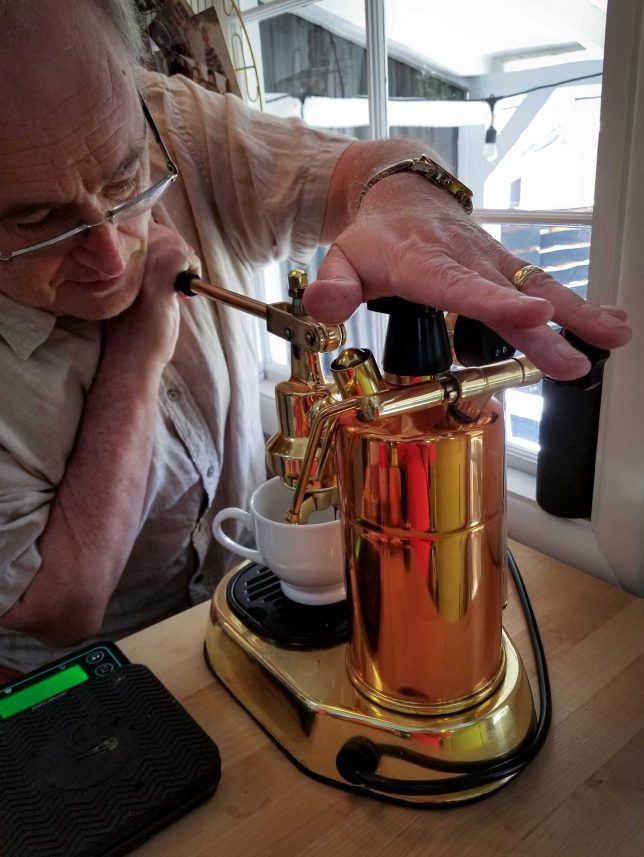 "For our first shot, we set it just about as fine as possible while still getting grinds in the container. (If you crank the grind setting all the way down, nothing comes out.) That produced grinds that were actually too fine for the La Pavoni: our first shot 'choked' the machine, requiring tremendous force and much more time to finish the pull. The flavor was still surprisingly good, but this wasn't something we'd want to do every day, especially while camping. (To be fair, neither is the La Pavoni.)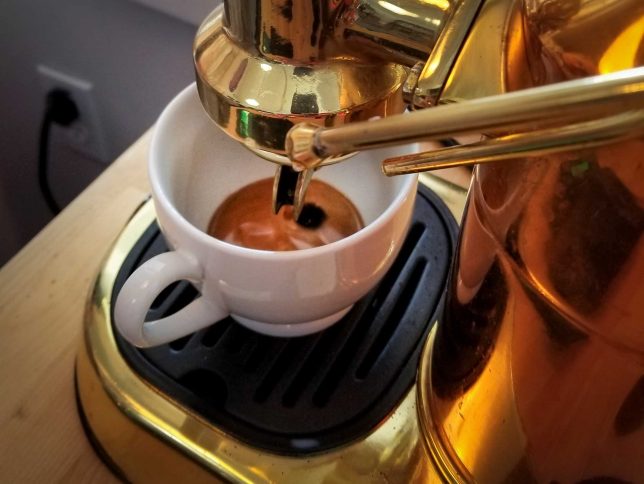 "For our second shot, we dialed it about 8 clicks coarser. The result was just about perfect for the Pavoni, with a 13g dose, a 15-second preinfusion, and a 30-second pull yielding 30g of espresso with a smooth, balanced flavor.
"The verdict: It's nice to have the extra margin of fineness on this machine, in case you vary your brewing method. (Turkish coffee, anyone?) It can take you a couple of test shots to get the grind exactly where you like it, so try it at home to find the perfect setting for the brewer you're planning to take overlanding," says Scott.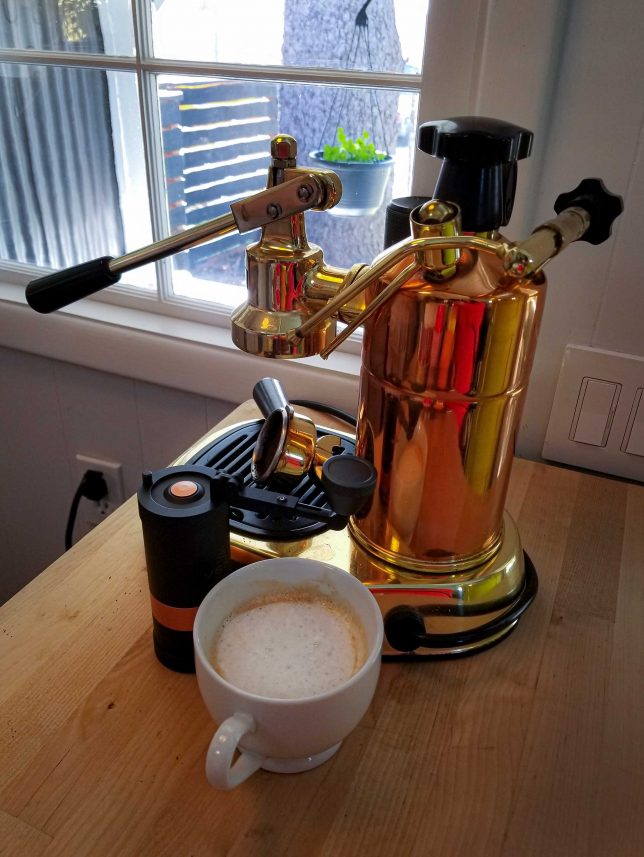 Mercedes and I both agree that the VSSL Java will be put into our camping kit for coffee. Whether we're making an Aeropress, a French Press, or a pour-over, the VSSL Java's compact size, durable structure, and seemingly infinite grind settings make it a winner in our book. It's not the cheapest grinder on the market at $150, but for some of us, the price of making a great cup of coffee on the go is worth it.
VSSL supplied this product at no cost in exchange for an honest, unbiased review.