Australian-based ARB knows a thing or two about living in the Outback. From heavy-duty bumpers and off-road fridges to high-powered auxiliary lights and even awnings, the company has a long-standing reputation for quality, design, and longevity. We review the ARB Touring Awning Kit with Light to see if it stands up to its other products.
Our History with ARB
Andy and I have a long history with ARB Touring awnings. We've donned an ARB 1250 on our 1995 Suzuki Sidekick, aka The Teal Terror, have an ARB 2000 on our 1991 Mitsubishi Pajero (which originally was on the Jeep Cherokee XJ), and even purchased an ARB 2500MM aluminum-cased awning for our Mitsubishi Delica Star Wagon during its tenure with us.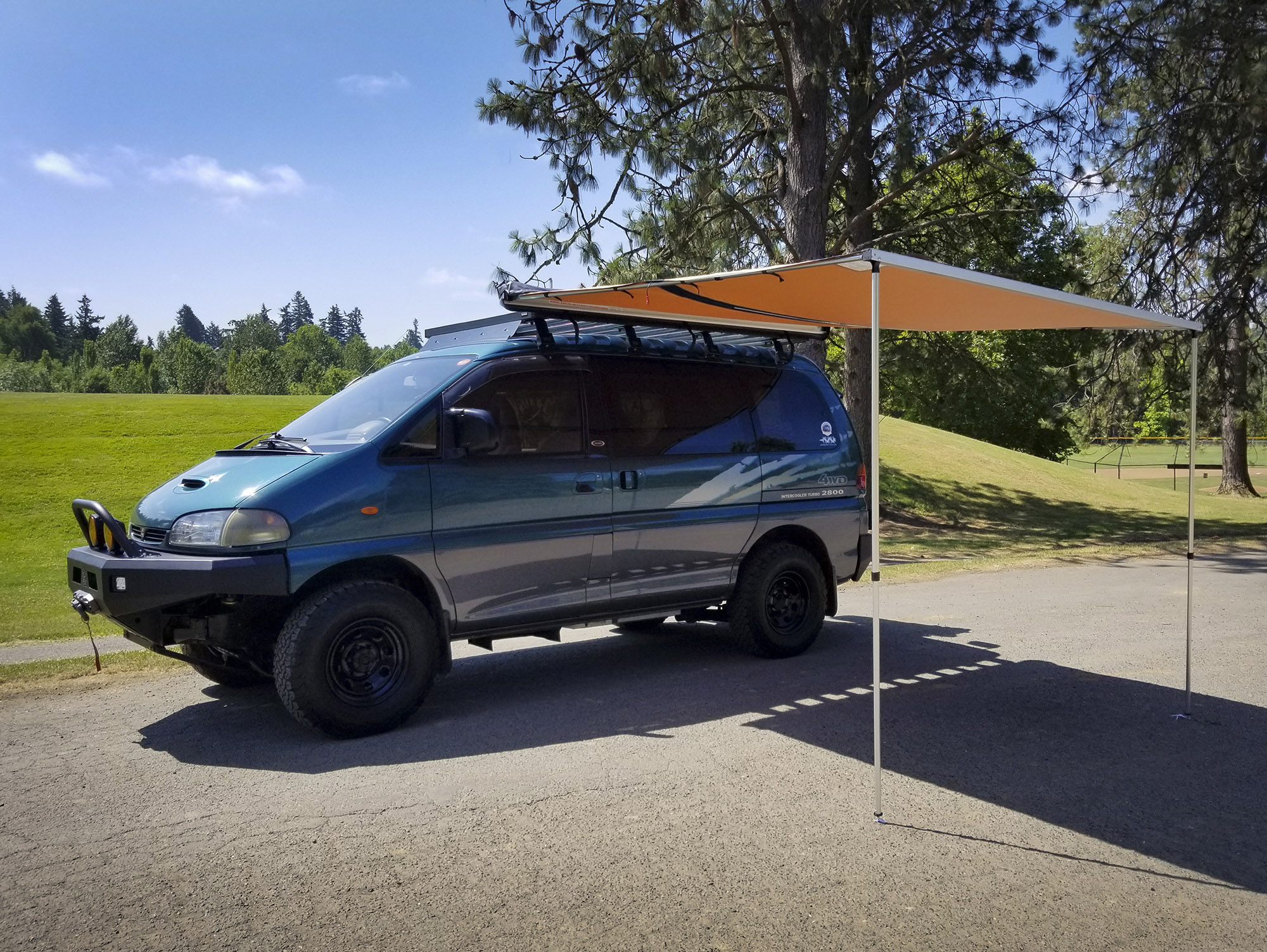 We recently tested the ARB Touring Awning Kit with Light. We agreed to give it a go as none of our former ARB awnings had illumination. Knowing their quality of products based on previous experience, we were excited to see if it was just as good as our other awnings. We wondered if it would light up our lives when traveling remotely.
ARB Touring Awning Kit with Light Specs
The ARB Touring Awning Kit with Light boasts an oversized 2500MM by 2500MM measurement (approximately 8.2 feet square). It also incorporates a near-full width LED light stripe (located in the center of the awning once deployed). These LEDs pack a good-sized punch of light, showcasing up to 1,200 lumens or the equivalent of a 75-watt light bulb. The ARB Touring Awning Kit with Light is switchable between cool white or amber light. It's a cinch to choose what lighting color you'd like at camp.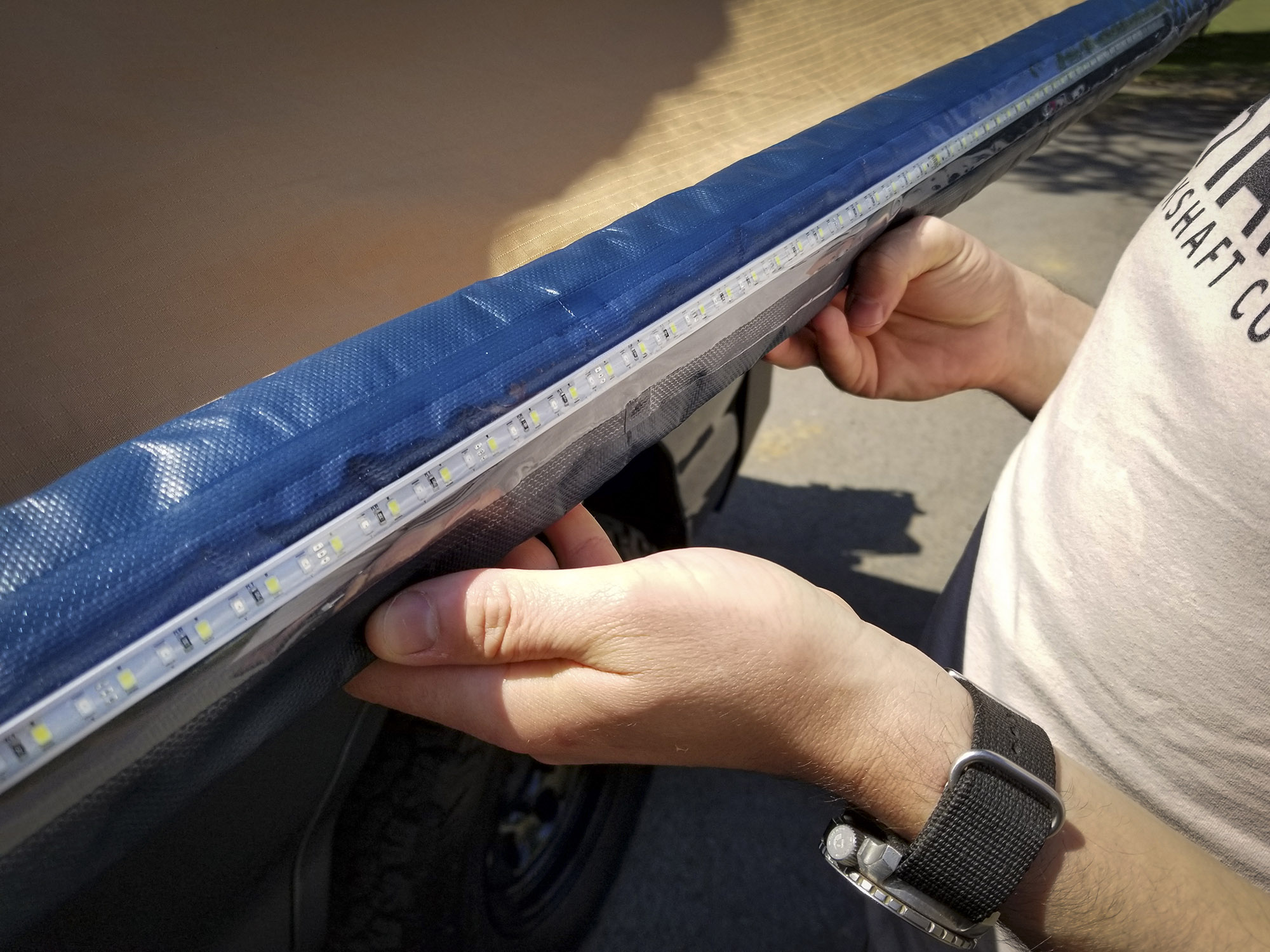 The ARB awning LED light strip is sewn into the awning material. It claims to be made with a waterproof housing (during our testing period we didn't have it in direct rainfall). This awning light kit can be adjusted by a waterproof dimmer switch. It also comes with an aluminum track for easy cooling. It's an easy plug-and-play affair. The light kit comes with a 12V adapter and 13 feet of waterproof, insulated wiring. One end plugs into the red receiver outlet incorporated into the awning light housing. The other end plugs into a DC outlet.
Tip: Tuck the awning wiring into the awning side end via its Velcro attachments. This will keep it from dangling down.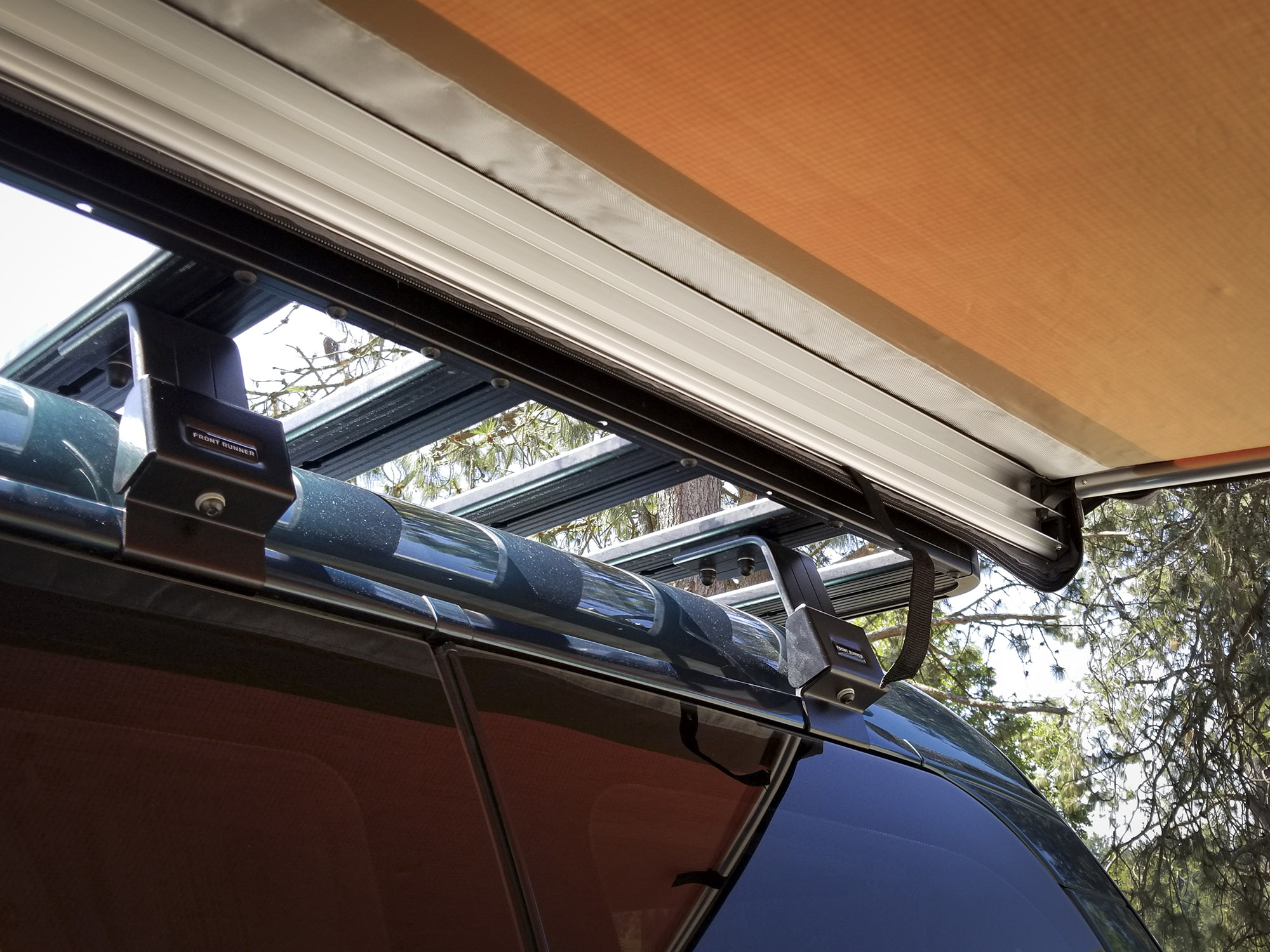 Additional Product Details
In addition to the light kit, ARB awnings are made from durable poly/cotton canvas that's polyurethane (PU) coated. This helps prevent accidental tears. The ARB Touring awning also features a UVP 50+ rating to block UV rays, too. Additionally, if it's anything like our other ARB awnings, it is fully waterproof (which we later confirmed).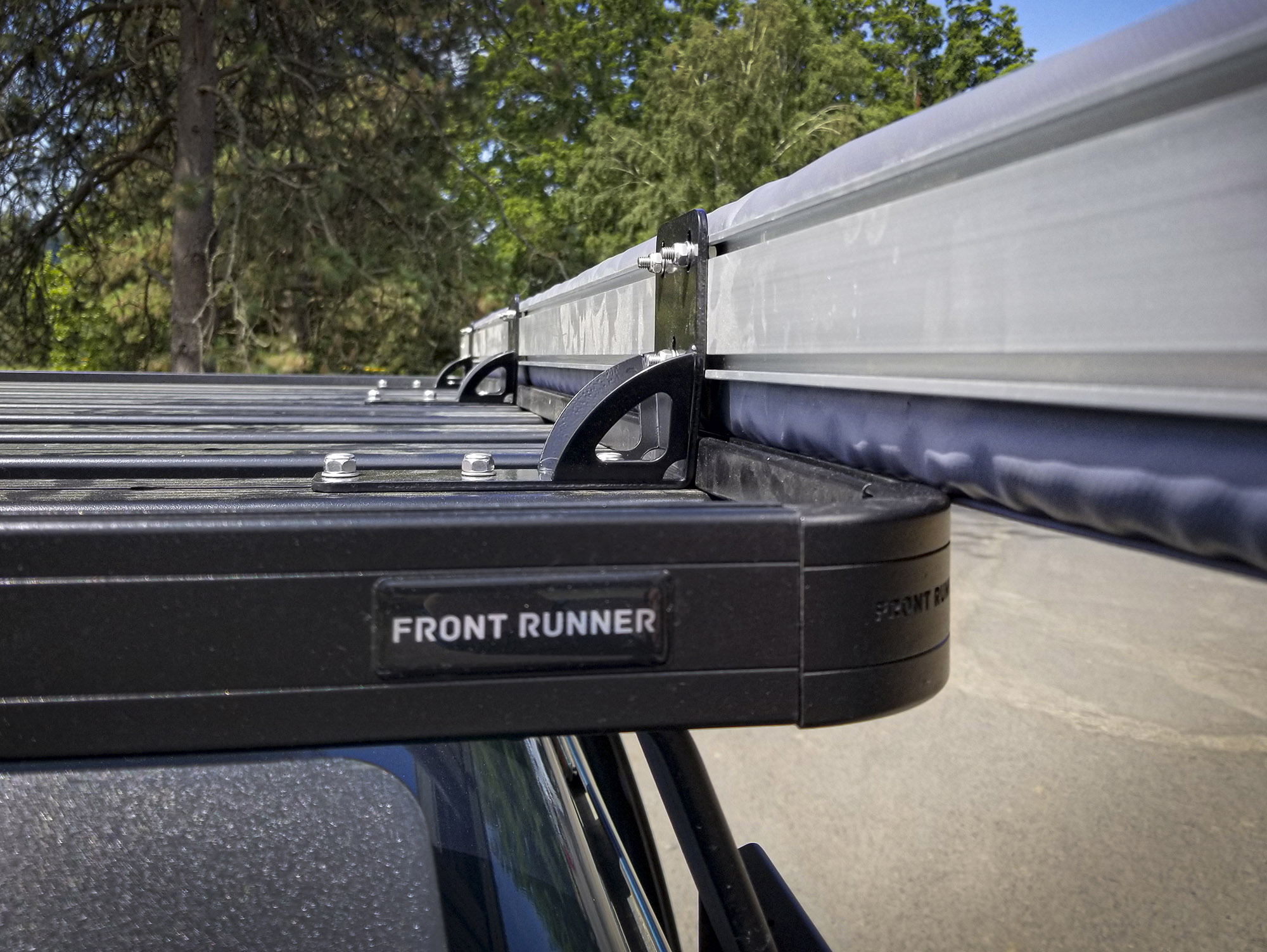 Our ARB Touring tester arrived neatly nested in its heavy-duty, rubberized zippered housing. After purchasing three ARB Universal Brackets to pair with our new Front Runner Slimline II roof rack, Andy and I made quick work to mount it for future shade-loving opportunities.
The 2500MM awning arrives neatly contained in its own housing. It also comes with two small pouches. One pouch contains stainless steel mounting hardware to secure the awning onto a roof rack. Additionally, it includes ropes and pegs to secure the awning after it is set up. The other pouch includes the LED light kit consisting of a 12V adaptor and the insulated wire to run illumination.
ARB Touring Awning Kit Impressions
The ARB Touring Awning Kit with Light is a solid bit of kit when considering an awning with ample shade, durable materials, and a smart design. This 2500MM wide awning is the perfect size for our Delica van. It spans the entire width, from tip to tail, and deploys in a matter of minutes.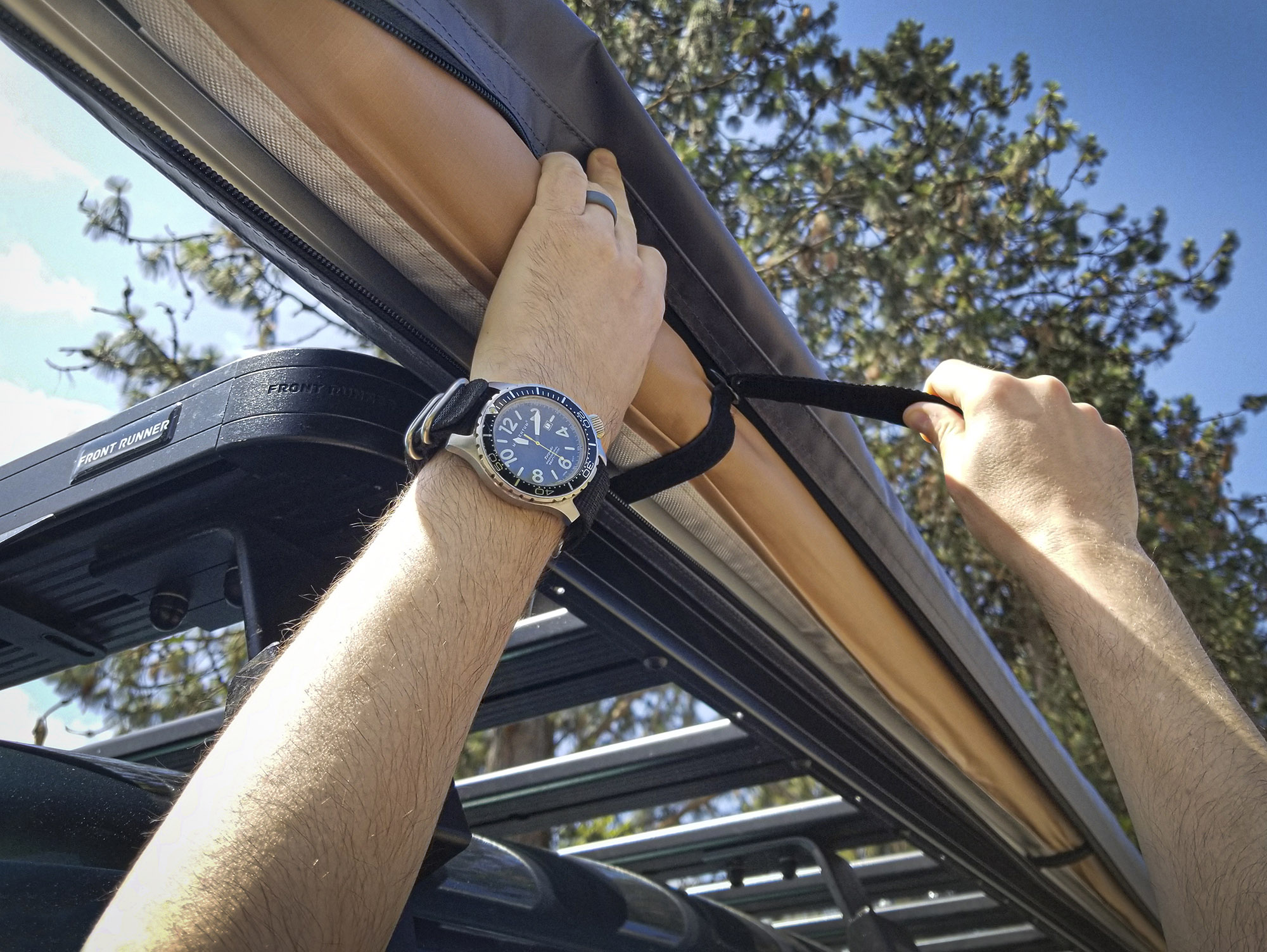 Our tester wears ARB's typical soft case (although an ARB aluminum hard-cased model is available). Their standard gray awning housing is waterproof and withstands most trail hazards adequately, like branches that scratch alongside it, etc. The zipper, however, seems to be housing's weak spot—it gunks up with dirt rather easily and feels less sturdy than we'd like.
Once deployed, its Velcro straps secure the canvas, although we'd love to see the receiving end of the Velcro longer to secure the entire strap length. The awning is expansive and covers a lot of ground, however, pulling the awning taught is a must. It can sag in the middle where the LED light strip is located if not tight from side to side.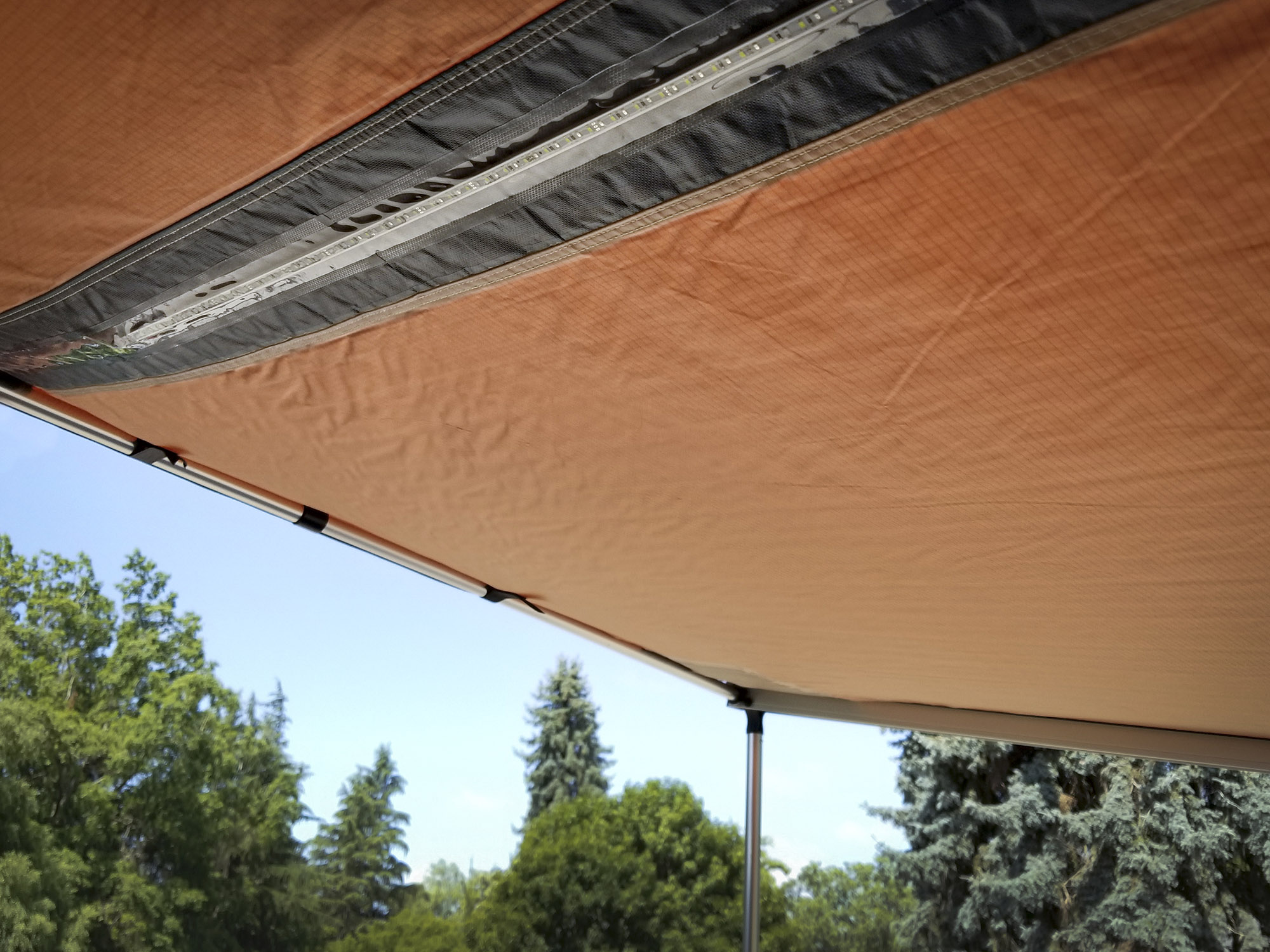 The LED light strip, located in the middle of the awning, provides ample light distribution. We also appreciate both color settings, too. Keep in mind the cord end to plug the cable in is also in the middle of the awning. Be careful when tucking the wiring away so it doesn't get crimped or dangle in anyone's way.
As with our other ARB awnings, the sewing is superb and the design is solid. All poles easily twist tight and don't loosen over time, even with windy conditions. The supplied ropes and metal pegs work as intended, however, we'd like to see beefier pegs to withstand bending under mallet pressure.
Savvy Setup
It's best that two people set up the 2500MM wide awning, it's the widest one ARB offers. After a few deployments, it becomes second nature of who does what. I am vertically challenged. I've learned to hold the awning canvas outward while Andy (Mr. Arms) sets up both horizontal pole supports. I secure the lower awning Velcro attachments while he automatically goes from the top down. This match was made in heaven.
The ARB Touring Awning Kit with Light is a great option when looking for a high-quality, oversized awning with incorporated LED lighting. Although the zippers and pegs are too lightweight for our tastes, the rest of the kit is well made, looks great, and should stand the test of time. Price: $355.95
This product was sent to us at no cost in exchange for an honest review.