There's a new ride in the Crankshaft Culture driveway. No, not the Alcan 5000 Outback Wilderness, but close. We actually bought a 2022 Subaru Crosstrek—like, with our own money. It was time to retire our steadfast 2007 Toyota Yaris liftback and add a go-everywhere (at any time) daily driver. We're totally going to keep it stock too. Just kidding.
No, we're not going to build some crazy off-road Subaru, nor do we intend on adding fire-breathing power. What we want to do is create a unique Crosstrek that lets us comfortably drive across the country to see family (in any weather condition) as well as compete in TSD rallies. It'll also run errands, take road trips, go exploring, and probably do other things. It'll be a Swiss Army Knife of vehicles.
Why A Subaru Crosstrek?
I know what you're thinking. Andy and Mercedes, you already have a bunch of cars! Well, it was time to sell our steadfast Yaris after 15 years of ownership. We also wanted something AWD, something with more ground clearance, and it needed to have a manual transmission. This last bit made the picking slim. I can hear it now. "Hey, what happened to that Honda CR-V you bought?" Oh, you mean this one? We sold it and didn't want yet another twenty-something-year-old car to worry about.
Frankly, we knew there weren't many options in our price range. But we did know there was the Crosstrek. We actually almost bought a new Crosstrek back in 2012, but ended up with a Forester, then a WRX. We looked at the Hyundai Kona and a used Mazda CX-3, but would sacrifice the manual transmission. Great cars, but not for us. So, et voilà: we're Subaru owners again!
So What's Next?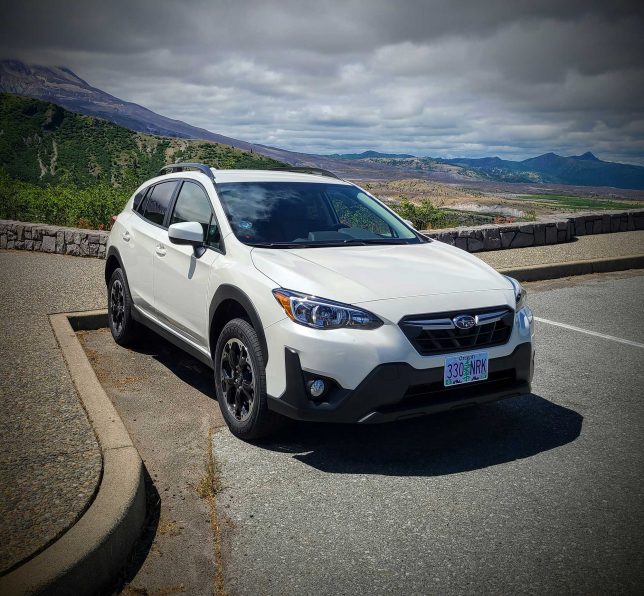 We've only had the car for about two months and have around 800 miles on the odometer. We've done one fun trip up Mount St. Helens and completed our first TSD (time speed distance) rally with it. The more we drive it, the more we like it.
Despite the fact it's not fast, it's surprisingly agile, soaks up bumps, and is more fun to drive than I thought it'd be, thanks in part to the six-speed manual. But yes, we plan to drive it a lot, take it on great adventures, and rely on it as our daily transportation.
We're going to make some mods, but we're not going to go crazy. And by "crazy" I mean do things that will impact reliability. We plan on adding auxiliary lights on a light bar, custom exhaust, a strut-tower bar, a replacement air filter, and all-terrain tires and custom wheels. Truth be told, we already have some of this kit (stay tuned for more soon). But we need to make sure this isn't some project car that's always torn apart and might leave us stranded and searching for rare parts. We already have three of those (and happily so).
This is our go-anywhere at any time all-weather car. We're looking forward to customizing it and making it ours, making it more capable, and making it into our cross-country Crosstrek.