I popped into Primitive Racing last week to pick up some mud flaps and skid plates for our new Crosstrek. The company's owner, Blake Lind, was showing me around the shop when something in the corner caught my eye. There was a V8 nestled in the bay of a WRX stage rally car. I had to know more.
Blake introduced me to the builder and stage rally race car driver, Sam Albert. I remarked how wild this swap was. I looked at the eight-cylinder engine shoehorned into the Subaru. This was a caged, fully legit stage rally car. I couldn't make out what the engine was originally from, however. It had coil packs, red valve covers, and didn't look all that familiar. Admittedly, I'm not the world's foremost expert on modern V8s. I figured I'd make a guess, "Uh … LS?" I asked, figuring every V8 swap these days has a good chance of being an LS.

"Nope," Blake said.
"So what is it?" I asked.
"Ferrari," Sam replied.
Now I'm about to lose my shit. I couldn't have heard that right. A Ferrari-powered Subaru WRX stage rally car? What kind of insanity is this? I mean, it's clearly the kind of insanity that makes me write this article.
Who Is Sam Albert Anyway?
Sam isn't new to stage rally. He first competed 12 years ago at the Sandblast Rally in South Carolina. There, he developed an interest in the sport. But he didn't have the means to get involved until after college.
"Once I finally had a consistent paycheck, I jumped in head first building my own car and taking a five-day course at Team O'Neil," Sam said. "I was lucky to have DirtyImpreza.com as a resource not just for info, but building out a network of friends and mentors that really helped me get started in the sport."
Sam's involvement really got a boost when he moved to the Pacific Northwest and started instructing at well-known rally school, DirtFish. There, he was able to hone his skills and then give back to the rally community in the form of an educator. He remarks it's been very rewarding. In addition, he raced a full national championship for them and won the 2018 North American Rally Cup—a dream come true.
The Car Is An Old Partner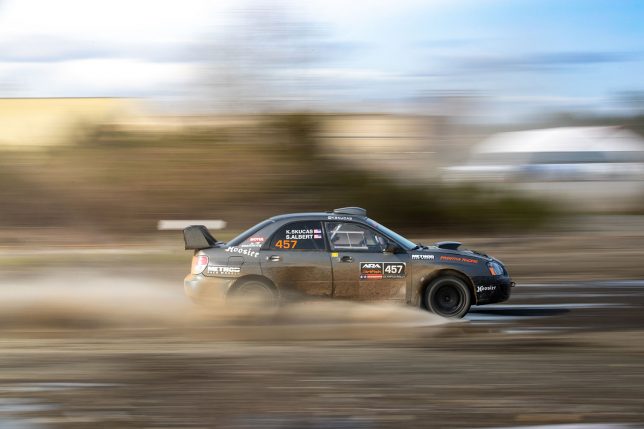 The WRX getting an Italian powerplant—a 4.2-liter V8 out of a Ferrari California to be specific—has been with Sam since he bought the car new in 2004. Fast forward to 2008, and he began to tear the vehicle apart in an effort to make it a full-fledged open-class rally car.
"I barely had any idea of what I was doing at the time, but by 2010 it was certified to race," said Sam.
Over the last decade, Sam improved various aspects of the car as time, money, and knowledge permitted. Sam said components like Reiger suspension and a sequential transmission took a while to save up for, but they've completely transformed the Subaru and the experience driving it.
Sam has put over 30 events on the car, which doesn't really sound like a lot.
"Stage rally really has a way of beating up the car. It doesn't help that it took me a while to learn how to drive with some mechanical sympathy. Most of the time spent in the garage is just repairing damage and getting it prepped for the next event," said Sam.
Why This Engine?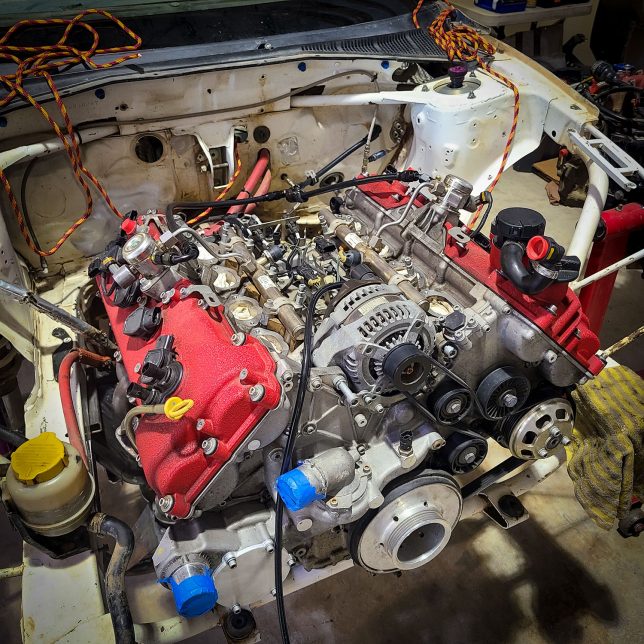 I had to flat out ask: A Ferrari-powered Subaru WRX? How did you come up with this idea? Why this engine in particular?
In his persistent effort to upgrade the car, Sam poured over rulebooks to see if there were any opportunities that might be beneficial. One particular rule that stood out? Engines under 4.5-liters were allowed without restrictions in the open class.
"With my current turbocharged EJ257 and the required 34mm inlet restrictor, I was maxing out around 280 hp / 440 ft-lbs [of torque]. That's plenty of peak power, but the power band is incredibly narrow and it tapers off rather quickly as you climb in RPM. By 5,000 RPM, it falls flat on its face."
Sam set forth researching various engines to meet the class' criteria and quickly zeroed in on the F136 engine family found in various Ferraris and Maseratis. This included the mill from the 458 Italia to the Maserati Quattroporte.
"The 458 motor was the standout with more horsepower per liter than any production motor in its class. They are also really expensive. Ultimately, I wanted to keep the flat plane [crank] from the Ferrari variants and I found the F136IB I have now from a Ferrari California. It was much more wallet-friendly, [had] more streetable power delivery (which is good for rally stages), and conformed to the rules."
Sam says that in all but first gear, power to the wheels will be significantly more than the previously restricted turbo four-cylinder engine.
"Besides all that, just imagine a Ferrari flat-plane V8 at 8,000 RPM in the forest. It gives me goosebumps."
Uncommon Swap Setbacks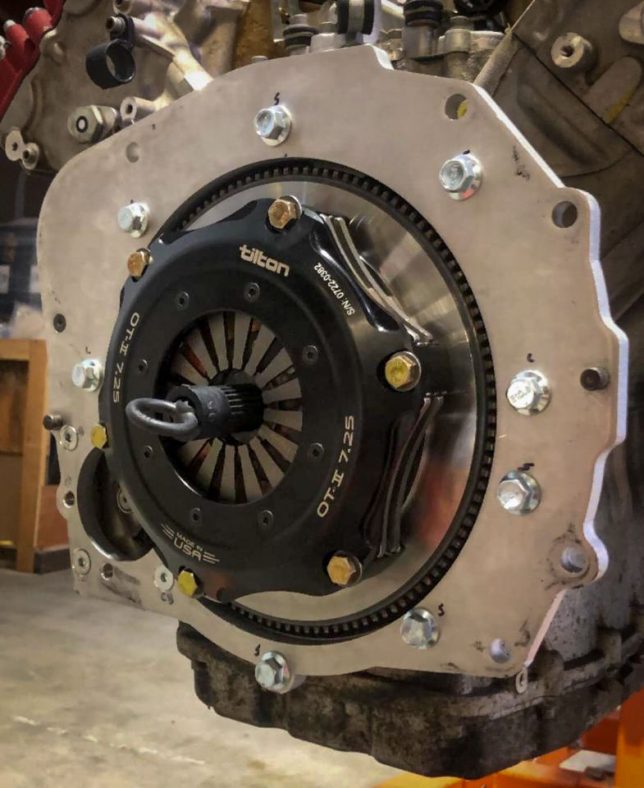 "The entire project is massive, but the hardest part was getting everything to match up with the Subaru drivetrain (yes, it's staying AWD) and be positioned in an acceptable location," said Sam.
Shockingly—ok, not shockingly at all— there are no Ferrari swap kits out there, so Sam had to design everything from scratch. This includes an adapter plate, flywheel, motor mounts, and more. Luckily, he had access to a 3D scanner and SolidWorks to design everything but admits it was a big undertaking.
"I'm learning as I go which makes the project take longer, but it's ultimately more rewarding for me in the end."
When Will This Ferrari-Powered Subaru WRX Be Ready?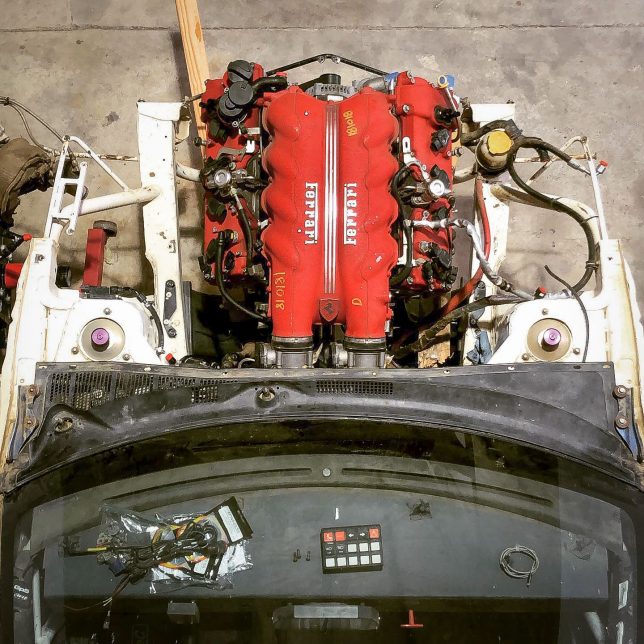 Sam's hoping for a first start before November 2022, which he says is optimistic. At the time of this writing, he's in the middle of wiring and programming the ECU and PDMs (power distribution modules). He admits there are still a few big-ticket items left before it's ready for competition again. However, he is confident he'll make the 2023 Oregon Trail Rally by next spring with the car sorted and ready to race.
Sadly, Sam states new revisions to the rulebook were just published that subjects this motor to technical review and approval.
"Basically, the 4.5-liter unrestricted limit dropped to 3.32-liters. My request for next year is still pending, but the American Rally Association expressed their commitment to letting me run the motor. What restrictions remain to be seen though. Hopefully, all of the work will still be worthwhile," Sam said.
Sam wants to thank everyone who has been supportive of the project. He also goes into some more details in episode one of his F136 Build Series video.
"I knew it would be met with some criticism along the way, but so many people in the rally community and beyond seem genuinely excited to see this idea come to life. Come see and hear it in person at a rally next year!"
You can follow Sam on Facebook, Instagram, and YouTube as he finishes the Ferrari-powered Subaru WRX. We can't wait to see and, more importantly, hear this monster!