Words by Andy Lilienthal; photos by Mercedes Lilienthal
When we got our first ARB fridge/freezer, I said if I ever needed to use a cooler again it'd be too soon. Well, that was a stupid thing to say. There are simply times when you need a soft-sided cooler. We found ourselves in such a situation recently. We were headed to Iceland for two weeks and needed a cooler to pack with us as we camped our way through the country. What to do? This is where the AO Coolers Carbon Series 36 Pack Cooler came into play.
Why a Soft-Sided Cooler?
Soft-sided coolers are lightweight and can often be packed down for storage. On the downside, they're not typically as sturdy as a hard-sided cooler, often don't stay as cold, and aren't available in the jumbo sizes some hard-sided coolers are. But we needed a cooler that'd pack down for travel and that could keep stuff cool and dry. We would also employ it later as a secondary place to keep food in our 1994 Mitsubishi Delica, as the compact Engel fridge with our Egoé Nest Box is only big enough for a couple of days worth of food. The cooler, which will fit under the Nest Box's sleeping platform, will be a great auxiliary place for foodstuffs.
AO Coolers Carbon Series 36 Pack Cooler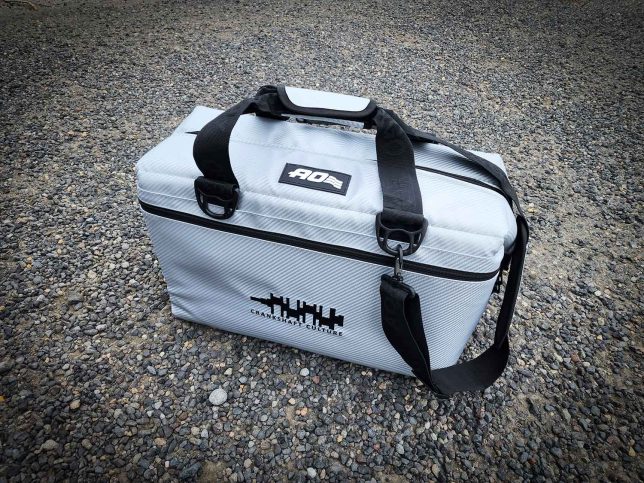 While at Overland Expo – PNW, a friend of ours had this cooler. He put a bunch of ice, beer, and soda in it for the weekend. It looked good, felt sturdy, and kept the beverages cold all weekend long. We wanted to know more. v
We reached out to AO Coolers, and they have an array of different cooler options. After some careful measuring, we opted for the AO Coolers Carbon Series 36 Pack Cooler. It was big enough for the stuff we'd want to keep cool, but small enough to travel with and fit under our van's sleeping platform.
AO Coolers asked us if we'd like to have our logo embroidered on the side of the cooler. How cool is that? We agreed and sent them our logo. Turns out, for an extra fee ($9.95), anyone can have their cooler personalized.
AO Coolers Construction
The AO Carbon Series has a neat carbon-fiber-esque finish that looks modern and sleek. AO states the material matches perfectly to the interior of boats and side-by-sides, too. (It also is a close match for interior bits on our Subaru Crosstrek.)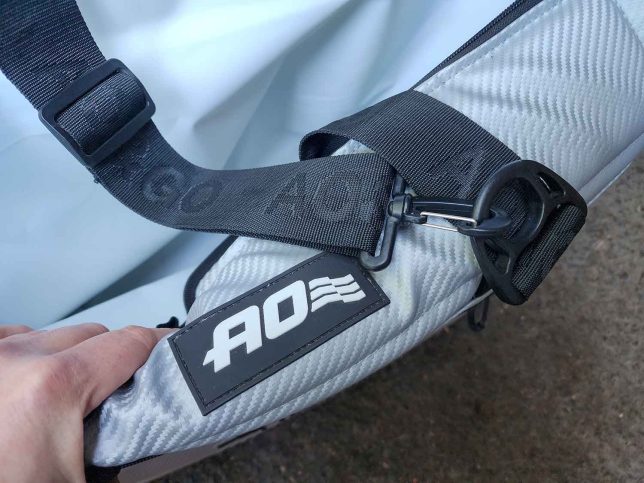 Made with a vinyl-coated fabric, the cooler is insulated with a ¾" thick closed-cell foam to keep drinks and food ice cold. Lined with a welded TPU (thermoplastic polyurethane), the eco-friendly liner is leakproof. It also has four tie-down hooks to strap it down in a vehicle.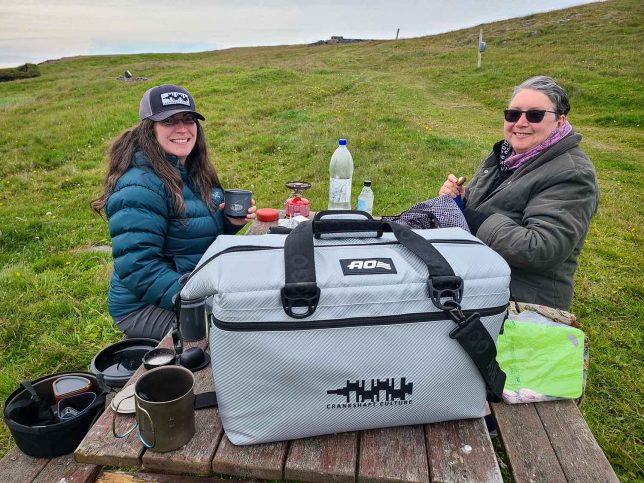 The 36-can cooler has 21″ x 10″ x 12″ exterior dimensions and 19.5" x 8.5" x 10.5" interior specs. AO states the cooler can hold 36 12-ounce cans, 18 lbs. of ice, and a total of 50 lbs. It also meets airline requirements as a carry-on and includes a shoulder strap.
Traveling With The Carbon Series Cooler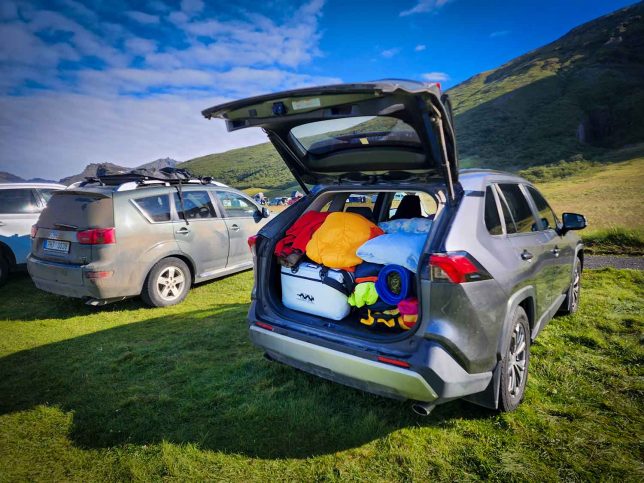 We immediately put this cooler to the test for two weeks in the land of fire and ice: Iceland. We were able to nearly completely flatten the cooler out and ship it in the bottom of our Ortlieb bag, which held most of our camping gear.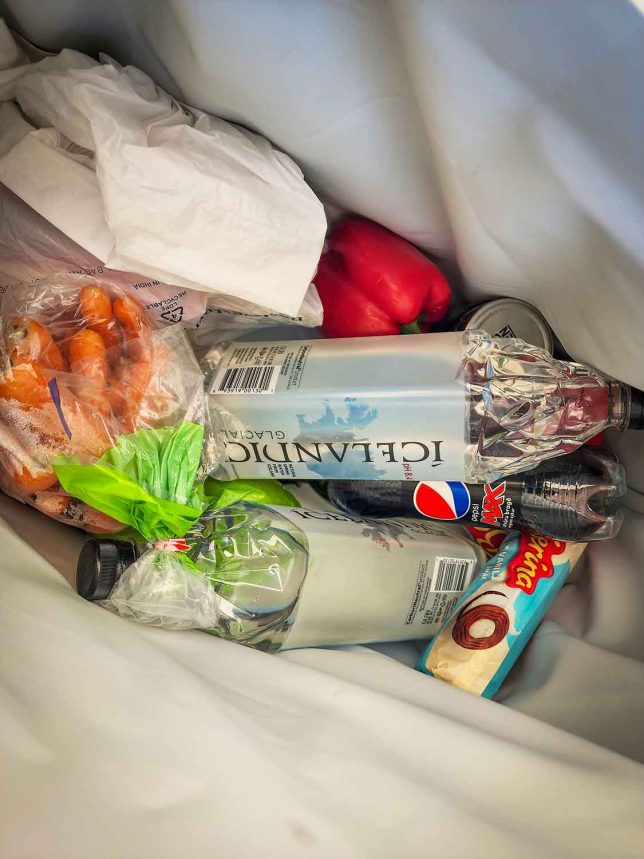 Once in Iceland, we went to our favorite Icelandic grocery chain, Bónus, and picked up our first round of supplies. This included fresh vegetables, cheese, and beverages. We also kept our dry goods (bread, cereal, granola bars, nuts, and other snacks) in the cooler as well. We used the cool beverages as "cold packs" to help keep everything else cool.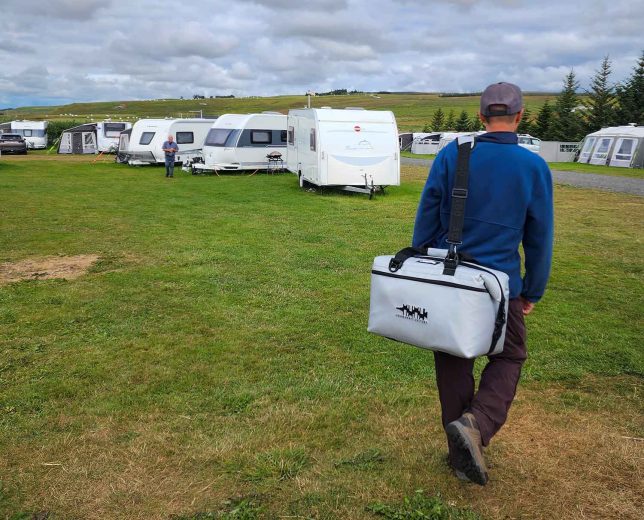 As we were traveling with three people, our AO Cooler got heavy and likely was near that 50 lb. limit for some time. However, we found it easy to lift and maneuver thanks to the handle and shoulder strap. Even when full, we found the AO Coolers Carbon Series unit to be easy to move and transport—something we did every morning as we took the bag from our trusty RAV4 rental to where we'd be eating. So whether it was a picnic bench in the Westfjords, or a mess hall table at Tjaldsvæðið í Svínafelli, the cooler was a pillar of our meals during the trip.
AO Coolers Carbon Series Pros and Cons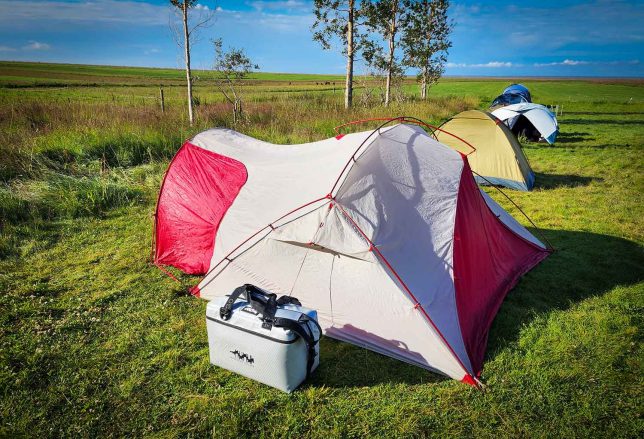 Over the two weeks of Icelandic camping, we found what we liked and didn't.
On the pro side, we liked its size. It was just the right shape to be stuffed in the back of our RAV4 and could be smooshed into corners when needed. The carry strap worked great and never dug into our shoulders when moving it. The cooler has clips on either side of the opening. When closed, these clips securely close the cooler's opening and also help to keep the cooler at, well, its coolest. We also like the carbon-fiber look, and love the fact we could have the Crankshaft Culture embroidered logo on it.
Overall it really felt well made. Sturdy construction, heavy-duty main zipper, and stout straps gave us confidence that the AO cooler would be a good traveling companion.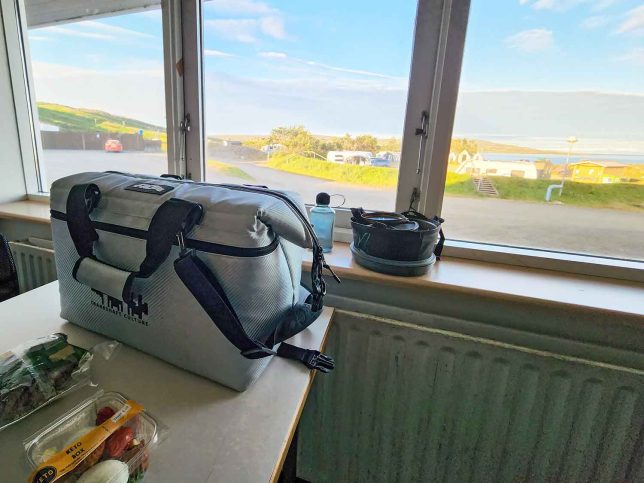 Cons: The main cooler compartment isn't accessible unless you unclip the corners. This is because the zipper goes all the to the ends of the flaps, which are where the clips attach. So every time we needed to get into it, we'd have to unclip both sides. Also, the front zipper compartment can be difficult to use when the top is affixed down. It's mainly good for napkins or any small bits of paperwork. We were careful not to store sharp forks or knives in the cooler for risk of tearing the inside liner.
Speaking of, the interior liner can be reversed to clean, which is great in case you spill your Egils Appelsín or worse, your Einstök Toasted Porter.
A Super Soft-Sided Solution
The AO Coolers Carbon Series does a lot of things right. It kept our stuff cool, was easy to carry, and trekked through Iceland without an issue. No rips, tears, or mishaps. The zipper situation might not be 100% perfect or to everyone's liking, but it was far from awful. We look forward to many more trips with this cooler, whether it's another Icelandic journey or a weekend camping.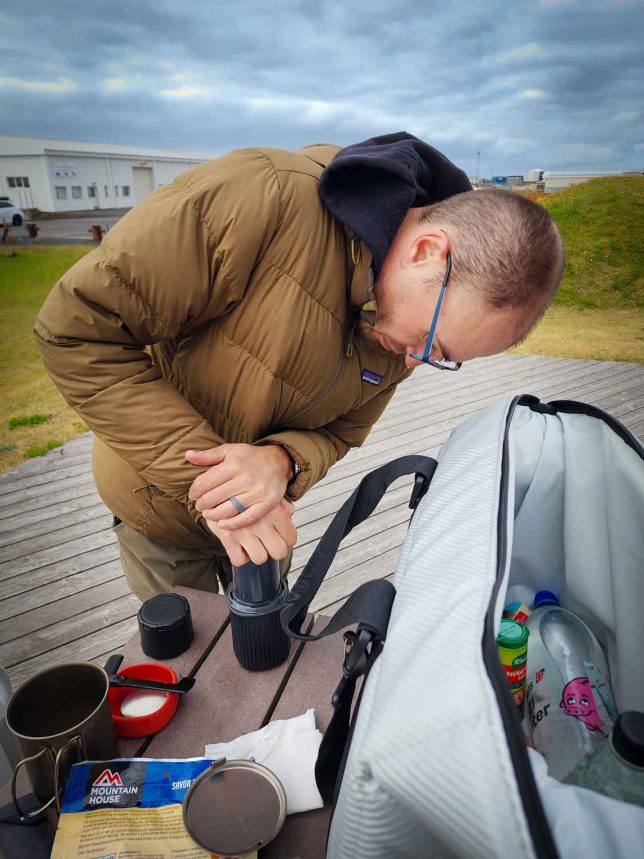 About Crankshaft Culture Gear Garage
Crankshaft Culture Gear Garage covers a host of gear for cars, trucks, and SUVs; travel; and adventure-related activities. In this post, AO Coolers sent us the Carbon Series 36 can cooler at no cost in exchange for an honest review.