We drove the Travel Tractor, aka our 1994 Mitsubishi Delica Space Gear, to the Denver area to pick up an Egoé Nest Supertramp camper setup. While we were there the crew from TFL invited us over to have a walkaround done on our Mitsubishi Delica on TFLoffroad, their 4×4/overland-centric channel.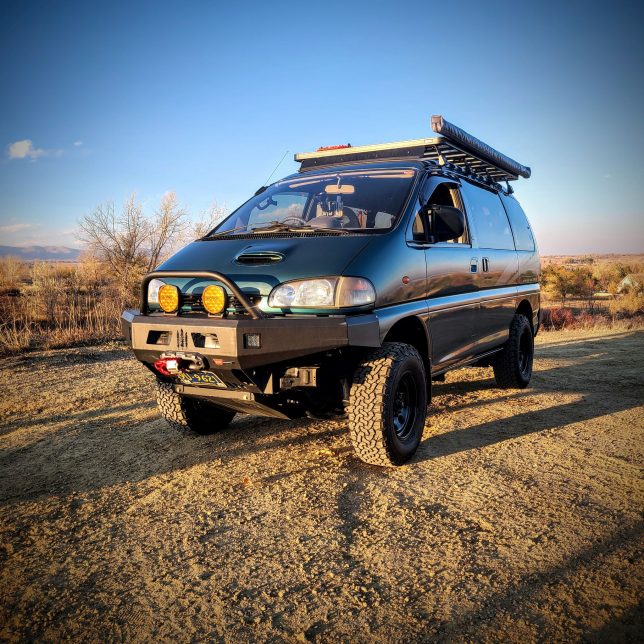 We did over 3,000 miles from our home in Portland, OR to Denver, CO, and back in our van. We had zero mechanical issues, and the trip was great. Yes, we ran into some bad road conditions on Interstate 80 in Wyoming (no surprise there—it seems bad every time we take that route). Thankfully, we got to and from safe and sound. We had a lot of friends along the way we wish we had time to see; hopefully, we'll get to visit next time.
The van easily cruises around 70 MPH even with all the add-ons we have. We generally cruise around 65-68 MPH for fuel economy and overall mechanical sympathy. For those wondering, we averaged around 18 MPG with the van. We were typically filling up at 1/4 of a tank. (Keep in mind we have a Long Range Automotive tank brought in from Long Range America.) We also added a splash of Diesel Kleen to each fill-up.
We'll have a bunch more about the Nestbox soon, so stay tuned for that. But so far, it's super cool. The whole trip was capped off wonderfully by the chance to be on TFL. We hope you enjoy the walkaround.