Saabs have always caught my attention, from the movie and TV appearances of the iconic '80s 900s, the 96's rally pedigree, to the gorgeous and weird Sonett with its V4 engine, the brand has made some beautiful and interesting cars with a very distinctive look and feel. However, despite spending countless hours scouring the Internet for used Saabs and doing plenty of research when they were still available new, I never pulled the trigger. One of my automotive regrets, however, was not purchasing a Saab 9-2x Aero when dealerships were clearing out the Saabaru for low 20s, which was a phenomenal bargain for what was essentially a WRX wagon in a formal suit and tie. I spent quite a bit of time looking for used 9-3 convertible's last year, but the soft top was a deal-breaker, so I bought my BMW 435i last year instead. However, in the near future would be a Saab 9000 project.
Prelude to a Saab Story
Fast-forward to June 12, 2021 at the Concours d'Lemons Northwest car show at Griot's Garage in Tacoma, Washington. There were a few Saabs and Volvos, but it was the Peugeot's that caught my attention. My friend Colin had picked up a Peugeot 405 Mi16 and brought it to the show. I met someone that drove their clean 505 STI up from Portland, Oregon, too.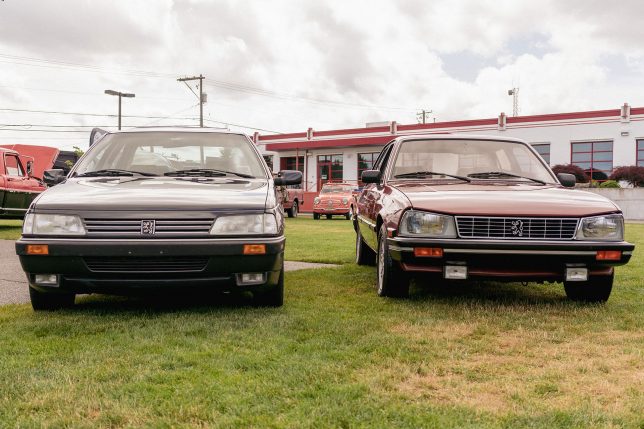 I absolutely fell in love with the understated looks of the Peugeots, especially the Pininfarina-designed 405. After hanging out and chatting with Colin for some time about French car ownership, I decided I wasn't enough of a masochist to become a French car owner. That lead me down a black hole of other random oddball cars.
One car that I've always wanted was an Alfa Romeo 164. But who hasn't been tempted by a seductive Italian automobile? But once again, I'm not enough of a masochist to own a car that had very few US sales and tough to source parts for. That lead me to its Swedish cousin, the Saab 9000. You see, times were tough in the late '70s and developing a new car was not cheap, so partnerships were sought to reduce costs.
The Italian-Swedish Partnership
Saab partnered up with Alfa Romeo, Fiat and Lancia to create the FWD Type Four platform. This resulted in the Alfa Romeo 164, Fiat Croma, Lancia Thema, and Saab 9000. The Fiat, Lancia, and Saab styling was penned by iconic designer Giorgetto Giugiaro of Italdesign and share similar styling cues. The Alfa Romeo was styled by Enrico Fumia of Pininfarina and looked drastically different.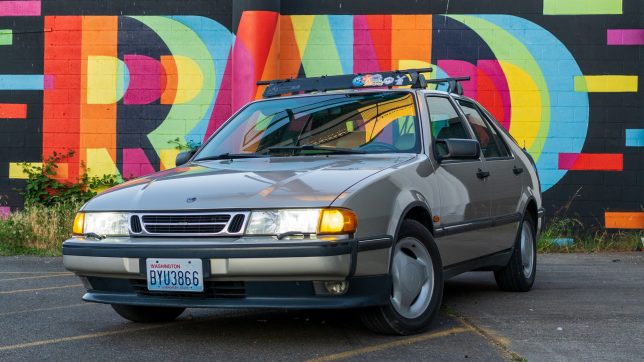 Platform sharing and styling similarities aside, the Saab 9000 was far from a badge-engineered variant and engineered to higher safety standards, albeit with a more basic rear suspension. The Saab 9000 featured better side and frontal impact protection than the other variants, which piqued my interest even more. Despite debuting in 1984, the Saab 9000 crash test videos show remarkable cabin structure integrity, even in roll-over crashes, which made its beam axle rear suspension forgivable to me. Since this would be my daily driver, the safety aspect was high up on the list, which most other rad-era vehicles made outside of Sweden would not be comparable to.
Research and Purchasing: My Saab 9000 Project
I began my research by scouring Saab forums (Saab Central and Saabnet mostly) to determine common problems to look for, model year differences, and the things to avoid. I learned the Saab 9000 can be trouble-free, but to look out for rust (not much of an issue for Pacific Northwest vehicles), ensure it was maintained well with routine full synthetic oil changes, and to avoid the vehicles with traction control because the electronic throttle used by the TCS system is failure-prone. Saab didn't have too many trim levels for the 9000 in the US, but the ideal car would be an Aero for the sportier suspension, better seats, and more power (manual only). I determined a Saab 9000 project would be a good option.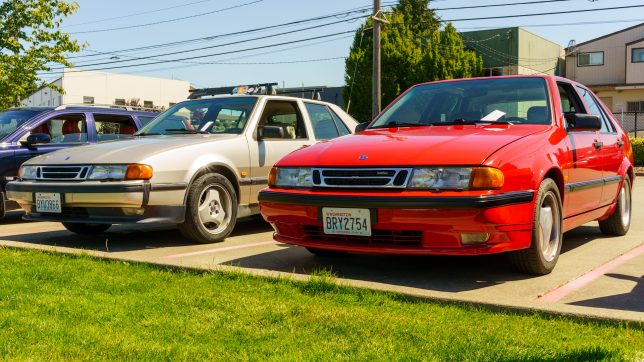 However, Aero's tend to command premium prices, so I'd be willing to settle for anything with the high-pressure (HPT) turbo engine, which put out 200hp, and skip the naturally aspirated inline-four, low-pressure turbo (LPT) (170hp) or 3.0-liter (Opel) V6 engines. The major difference between the Aero's 225hp turbo motor and the regular HPT 200hp was simply a difference in turbo and tuning. The Aero had a larger Mitsubishi TD04 turbo compared to the HPT's Garrett T25—an easy upgrade if I ever wanted more power.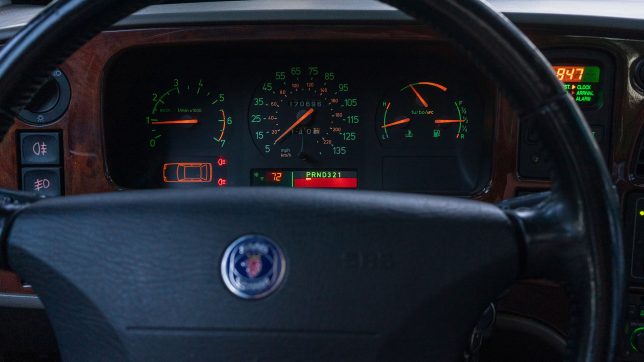 Saab manufactured the 9000 from 1984 up until 1998 with about half a million vehicles globally, throughout its lifetime. There was a facelift for 1994 that updated the styling with slimmer, sleeker headlights, new rear glass for the hatch, and factory smoked taillights that exude a pompous, "I'm better than you," look. I'm a big fan of the facelift version and focused my search for those model years.
I came across a cheap 1997 Saab 9000 CSE Turbo on Facebook Marketplace in late June. The car was initially listed for $3,000, but dropped to $2,400 by the time I saw it. It had the 2.3-liter HPT turbo, the body was in decent shape for its age, all stock, did not have the troublesome TCS, service records from the last five years, but was an automatic and in a less desirable beige on beige color combination.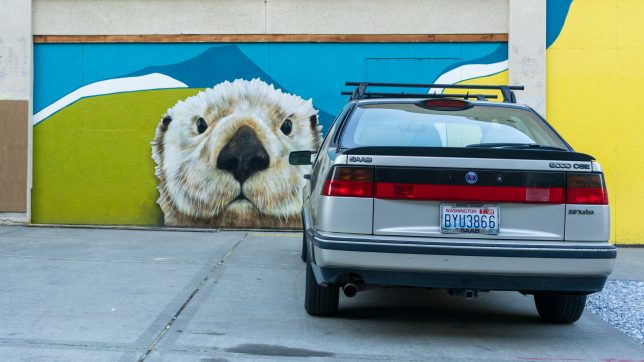 I messaged the guy but was too busy to make it out to Maple Valley, Washington to check it out for a couple weeks. When I finally made it out to check out the car, there was an intermittent low oil pressure light that would only come on when the engine was warmed up. This could've been catastrophic, but the guy claimed he never saw it before, and it was parked for a while. He seemed like a trustworthy guy so I took his word, because it drove fine, wasn't low on oil, and didn't make any angry noises during my test drive.
He wanted the car to go to a good home, to someone that would take care of it and not scrap it as soon as something went wrong. I offered him $2,000, which he accepted and even included a nice Thule hitch-mounted bike rack as a bonus to appease my wife. I limped it home with the low oil pressure light on without any issues. My Saab 9000 project was no official
Service history and everything that was wrong
I expect every used car I purchase to require some sort of maintenance, whether it's routine or preventative and don't believe there's no such thing as a used car that needs nothing. A 24-year-old car with 170K on the odometer is going to need a little bit of TLC before I'd trust its reliability. Nevertheless, the car did come with a folder of service records from the third and fourth owners.
The car's third owner spent quite a bit of money on service at Scanwest, one of the more renowned Saab shops in the country. She only owned the car for a year around 2016, but had the following services performed to a grand total of $5,500.
Belt tensioner
Serpentine belt
Tensioner pulley
Fuel pump
Fuel filter
Ignition cassette (black)
Header pipe bracket
Transmission fluid and filter change Brake fluid flush
Oil pressure switch
Upper motor mounts
Turbo bypass hose
Heater hose
Washer check valve
Headlight relay (these things go out regularly)
Coolant level sensor
CV axle
Axle assembly
Hub assemblies
Transmission governor seal ring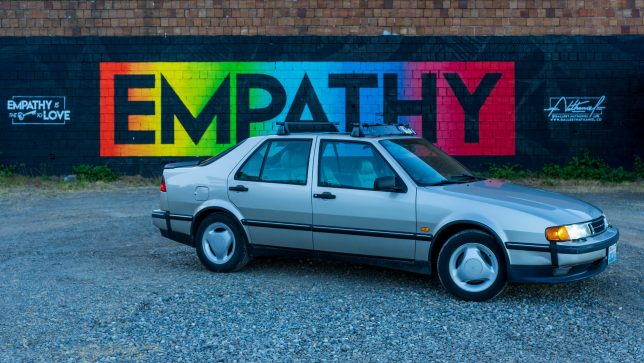 I imagine the third owner had a hard time swallowing how much repair costs on the car were, especially spending $5,500 in repairs for only a year of ownership. The fourth owner's repair costs weren't as extensive and mostly included fully synthetic oil changes. However, he did have the following issues fixed for about $1200 but he owned the car for four years.
Upper radiator hose
Water temperature sender
Cam journal plug
PCV check valve and vacuum line
Water pump
Thermostat
The two previous owners spent around $7,000 in repairs and maintenance if you count the oil change costs. I was also provided with some new parts that were never installed, including four new spark plugs and two hydraulic motor mounts.
There are a couple of things I tend to replace immediately on any new used car purchases—spark plugs, air filter, cabin filter, and an oil change—and my Saab 9000 project was no different. My low oil pressure light also went away after an oil change and a little bit of Seafoam in the engine oil—I imagine the screen for the oil pickup had some build-up after being parked for so long.
When the third owner had Scanwest replace the ignition cassette, a black cassette designed for the newer Trionic 7 (T7) engine management system was installed, which was cheaper and would operate fine for the most part, just not ideal. The Saab 9000 is supposed to use a red ignition cassette since it uses the older Trionic 5 engine (T5) engine management system. The car was quite sluggish when I first brought it home, but a fresh set of spark plugs and a new red T5 ignition cassette livened up the throttle response substantially.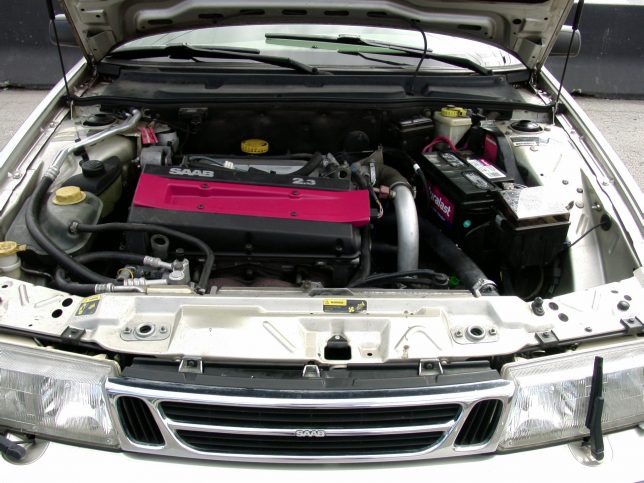 I sprang a coolant leak from the lower radiator hose shortly after my purchase while out. Luckily, it wasn't a pressurized hose, and I was able to limp it to my parent's house. However, a replacement hose isn't something your usual auto parts store keeps in stock, but I managed to snag the last one from the O'reilly's Seattle distribution center, delivered for in-store pickup the next day.
The car was leaking a little oil from the front crank seal and dripped down to the oil pan. Scanwest reported the leak to the third owner as potentially the rear main seal, but she did not address it. While it was about $10 in parts, the labor is what gets costly. Fortunately, I have a loving father that enjoys working on my random cars, so I dropped it off with parts and it was fixed a few days later – he even replaced the motor mounts, which were toast and covered in hydraulic fluid.
One of the more annoying issues was the boost control valve that failed, which prevents the engine from going into a high-pressure boost mode. It's a common failure and the majority of old Saabs with this engine have seen the same failure. The direct replacement valve is no longer available new, but the valve from a newer Saab 9-3/9-5 can be used with a hardware and software ECU modification. The new valve was $40, but I sprang for a 3D printed mount and plug-and-play harness from Modern Classic Saab for a cleaner install.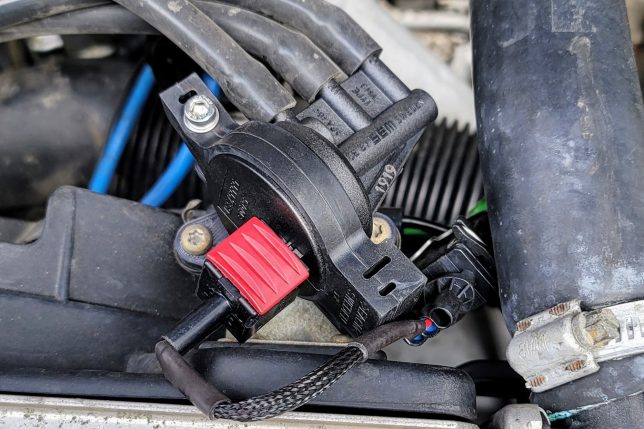 Solving the ECU issue was the harder part. While I could perform the hardware modification to the ECU, I did not have the tools to perform the firmware flash necessary to make it function. I opted for refurbished ECU from Scott Rountree with the hardware modification and Stage 1 flash, which bumps power to 245hp, at the crank, assumingly. The new valve and ECU definitely lived up the car and you can feel the low-end torque and greater top-end. The 40-70mph acceleration now lives up to the reputation that Saabs had.
Braking was an issue on the Saab because the pads and rotors were toast. I've had great luck with pads and rotors from R1 Concepts, which were installed on my 2004 Dodge Durango, and ordered plain eLine rotors and ceramic pads. My dad replaced the brakes while he had the car as well. Overall, I only spent $1,000 to get the car mechanically up to snuff so far, which isn't too shabby for a $2,000 car.
Wheels and tires
While I love 3-spoke wheels and like the stock design, the 15-inch size with its 205/60R15 tire size provided very limited tire options. Most of my tire choices for the 15s were either low-end economy tires or more expensive tires that would be overkill on the car. However, the Saab community is excellent, and I found a local owner that was selling a set of 16-inch Super Aero 3-spoke wheels, which was exactly what I wanted for my Saab 9000 project. The wheels were a little rough, but they looked good enough and matched the condition of the car's paint and trim.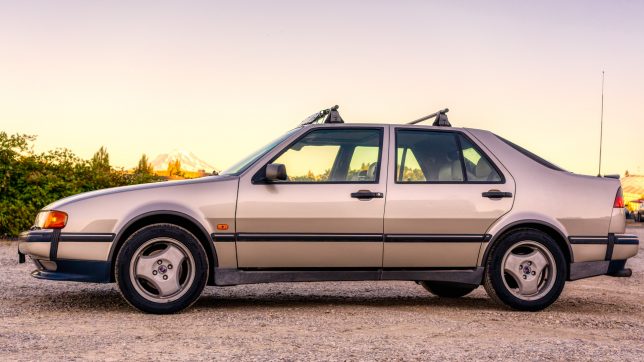 I had Discount Tire install a set of Barum Bravuris 5HM tires on the 16-inch wheels, which was a reasonably priced high-performance tire that was $81 each. The Super Aero wheels are a 16×6.5 wheel, which is half an inch wider than the stock 15×6 wheels. Increasing the width while reducing the sidewall ratio improved steering response and handling of the Saab significantly. It floated like a '90s Cadillac on the stock size wheels but is now more responsive and much more enjoyable to drive.
Saab stereo upgrades
The Saab factory stereo consists of two single DIN units – a cassette deck and CD player with an external Harman Kardon amplifier and speakers. Clarion was the OEM for the factory cassette deck and CD player, which all seem to have the same failure point—the display becomes delaminated and is no longer usable. This makes it hard to tune into the right radio station or even adjust basic audio settings.
I struggled internally between finding a rad tape deck or going modern with Bluetooth to make my life easier. I opted for a modern Sony DSX-GS80 head unit for its Bluetooth and dual USB port capabilities. The customizable lighting and plain looks made it easy to not look too out of place in the Saab's wood trim.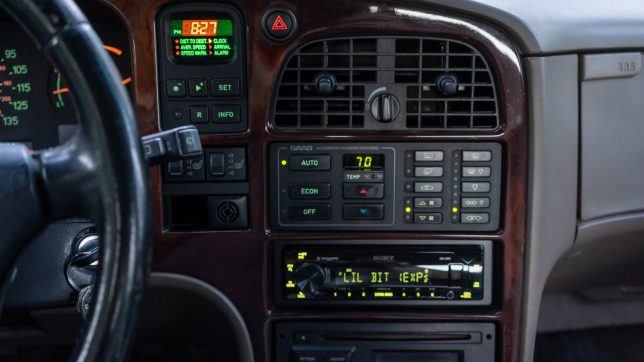 Next up were the speakers. While the factory Harman Kardon system was decent for its time, 24 years in the sun did not treat the foam surrounds well. Most of the rear speakers were shot, minus a single tweeter and mid on opposite sides of the car. The Saab factory speakers consisted of a 2-way 4-inch speaker and tweeter up front, and 3-way 6×9 woofer, 3.5-inch mid and tweeter in the back.
I wanted to keep the Harman Kardon lineage on my Saab 9000 project without spending too much and opted for all Infinity Reference replacements, which are my default go-to for budget car speakers. The front components were replaced with regular Reference 4032CX coaxials because budget 4-inch components are non-existent nowadays. The rear speakers were replaced with the Infinity Reference 9630C 6×9 component system and Reference 3032CFX 3.5-inch coaxials. I opted to not use the crossover or tweeter from the 6×9 components, as the factory wiring treats that channel as purely for low-range audio.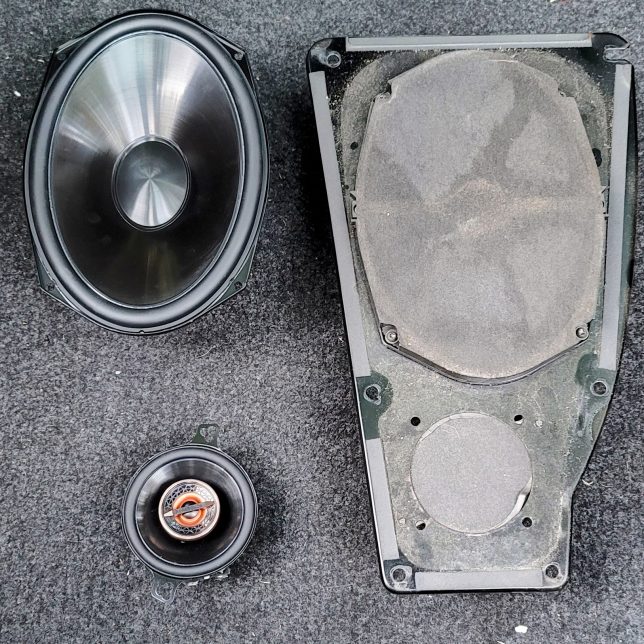 The result was acceptable for using the factory speaker location and amp. It doesn't sound as good as the factory Harman Kardon system in my BMW 435i, but enjoyable enough for Bluetooth streaming music. It's missing some low range boom, but that can be addressed with a JBL Stadium BassHub spare tire subwoofer or Infinity BassLink, later.
A little creature comfort
Saab offered a dealer-installed armrest when the 9000 was new. I managed to snag a used dove grey armrest with intentions of dying it to match. After researching leather dye and the cost of the kits, I ended up buying the last new old stock sand beige cover off eBay.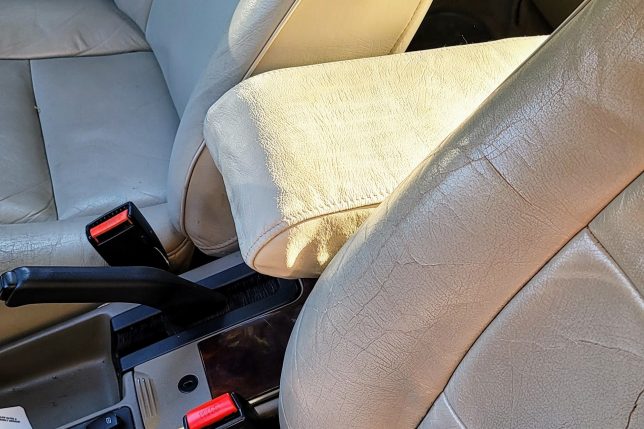 Installation was annoying as it required cutting the carpet, some foam and the insertion of cage nuts. It's a little shorter than I expected, but I quite enjoy having an armrest, regardless.
That's it so far
That's my Saab story so far. It's nothing crazy, but it's my latest daily project. I'll continue to make improvements to my Saab 9000 project here and there and participate in Saab community events. The Saab community is a tremendous resource of the friendliest car enthusiasts I've come across. Getting parts for the car is no worse than my '93 Suzuki Carry and similar in it requires waiting a few days for parts to show up from online stores.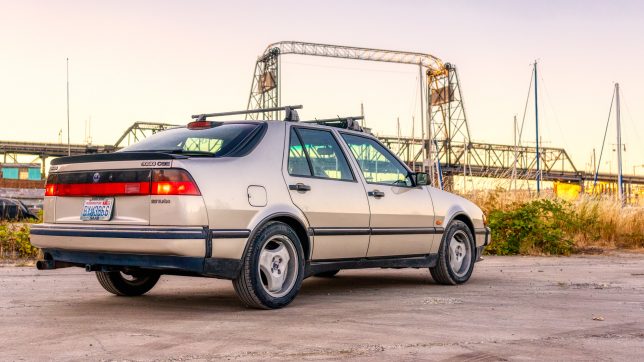 I plan to swap in a 5-speed manual in the future, but finding a parts car or even a transmission isn't the easiest task since Saab only produced around 500K 9000s globally, with a lot of them ending up being scrapped. I'm also contemplating what to do about the seats. Most of the seats are in good condition without any rips or tears, but the driver seat is pretty bad. I could replace the driver's seat, but I also have a lead on front and rear seats from an Aero. The downside is it'll cost about $800 to reupholster them to match. Such are project cars. Such is my Saab 9000 project.