Well, that didn't take long. We've already installed our first modification onto our 2022 Subaru Crosstrek. We don't even have 900 miles on it. So first things first? Let's make this thing a bit louder. We installed a Nameless Performance Executive Axle Back Exhaust. So far? We're impressed.
The video above does most of the talking in this post, so you'll be able to get the gist of everything there. However, here are our impressions of the product since its installation a couple weeks ago.
Excellent Quality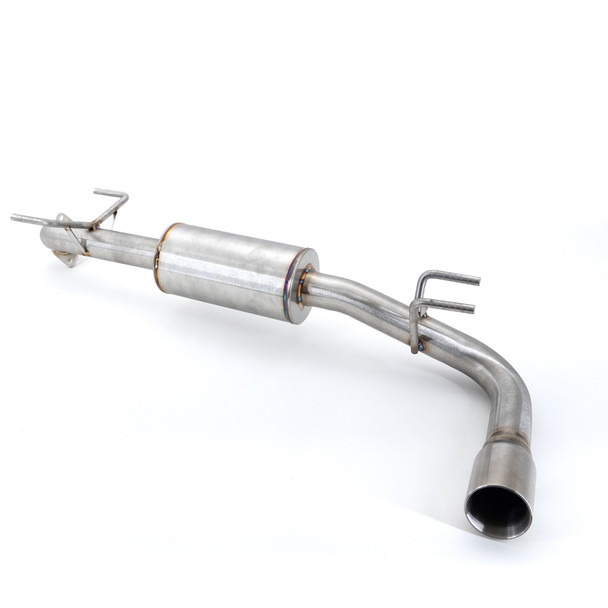 From the get-go, you can tell this is a quality piece. Great welds, high-quality stainless steel, and nice touches like the Nameless logo being etched into some of the parts. Nameless sent the version with the tip on it, but this particular system is also available in a stealthy no-tip version.
For what it's worth, Nameless offers a host of options for the 2018+ Crosstrek for those with different tastes in noise levels and exterior style preferences. There are a couple of muffler-delete options on the loud side, dual-chamber models with two mufflers for a more hushed sound on the other side of the spectrum, and the Executive models are smack-dab in the middle. Plus there are no-tip, single-tip, and quad-tip variants as well.
Installation and Fit
Typically axle-back exhaust systems are composed of a bit of pipe leading to the muffler, the muffler, and tailpipe. This Nameless Executive Axle Back Exhaust is no different. Usually, an axle-back installation is also pretty easy. There are a couple of bolts, a couple of hangers, and a gasket. Easy-peasy.
Axle-back installs don't get much easier than this Nameless version. There are two 14mm bolts, and three hangars. Nameless includes new fasteners, a new gasket, and a replacement hanger for this system. Not counting the time it took to move a car, grab the ramps, and drive the Crosstrek onto them, it took 20 to 30 minutes to install this. It's super easy.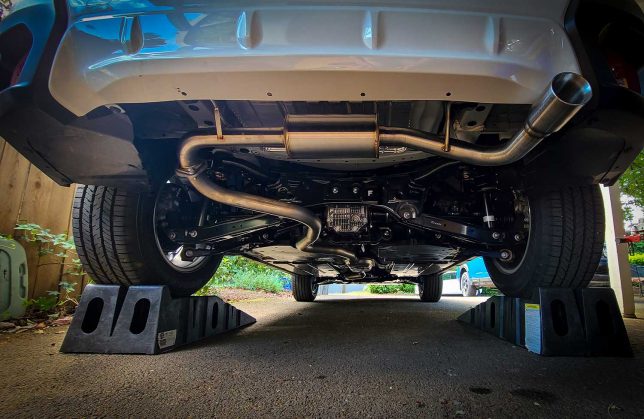 Semi-Pro Tip: I use silicone spray and a large flat-head screwdriver to remove mufflers or piping on exhaust hangers. It helps quite a bit. It also aids in installing new ones, too.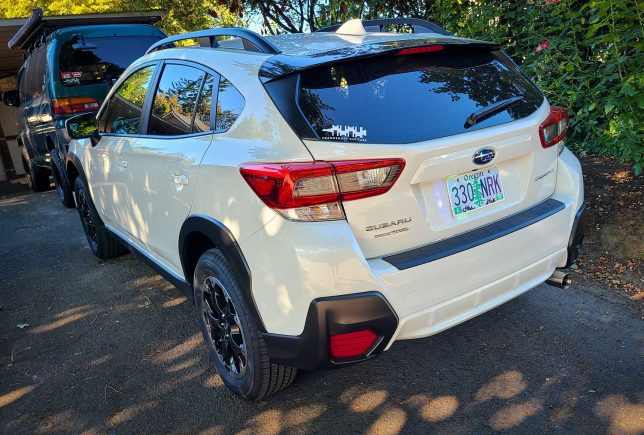 Once installed, the fitment is solid and centered. The tip looks like it sticks out a bit too far at some angles, but when you get up close, you can see it's actually flush with the rear bumper. Again, if you don't want a tip, Nameless has them without, so you get the factory look with the custom sound. And if you want three more tips, they've got you covered too.
Sporty Sound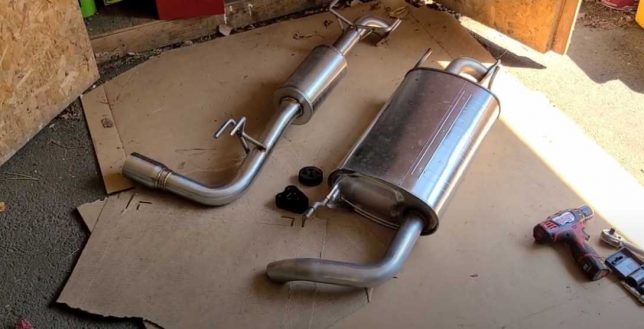 The factory 2018+ Crosstrek 2.0 is pretty quiet from the factory, which shouldn't be surprising when you see how large the OEM muffler is (see above). In fact, for us it was too quiet—we like to hear our cars. However, we don't want something super loud or something that drones on the highway.
The Nameless Executive Axle Back Exhaust's tone is smooth, deep, and has some braps and pops to it. It's by no means obnoxious. At first, I thought it might be too quiet, but after a couple of weeks of driving it, I think it's spot-on for what we want. Personally, I think Subaru could sell this as a sport exhaust option as it's got a great tone, doesn't drone, and isn't super loud.
Nameless Performance is based in Woodland, WA and it's cool to have parts that are not only made in the USA on this vehicle but made right here in the Pacific Northwest.
We've only got about 100 miles on the system so far, but the more we drive it, the more we like it. It's not too loud, not too quiet—definitely in that Goldilocks zone for us. Those wanting a louder tone (and who don't like their neighbors) may want to opt for the muffler-delete option, however. And if you're not a fan of the exhaust tip, you can also go tip-less. You can consider that a tip. From us.
This product was sent to us at no cost in exchange for inclusion on this build.